News that
Gary Barlow
has signed on to do a two-part Compare the Market commercial with Orlov the meerkat has generated a mixed bag of responses at Handbag HQ.
Sure, we love
Gary Barlow
, and we kinda' sorta' love to hate the 'Simples' price comparison commercials, but do they really go together?
Gary will 'meet' Aleksandr Orlov and Sergei, who've tracked the Take That star down in Manchester to ask him to sing at an exclusive party.
We're not sure whether it's going to be awesome or really really lame. Either way, Gary has obviously been paid the big bucks to get involved.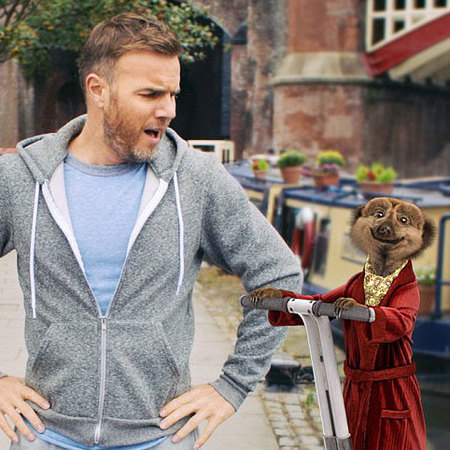 Gary isn't the only celeb to take part in a cheesy TV commercial for a hefty sum. Take a look at some of our most cringe-worthy TV advert moments below...
1. Kevin Bacon for EE:
When an actor refers to themselves in the third person as a "Hollywood A-Lister" you know you're in for a bumpy ride...
2. Dawn French for Churchill:
The legendary
Vicar of Dibley
says about three words in this whole commercial about hire cars and insurance. Seems like a bit of a step down...
3. George Clooney for Nespresso:
Shamelessly playing on his Hollywood heartthrob status to flog coffee...okay, we accept.
4. Jennifer Aniston for Smartwater:
An ingenious commercial showing the hidden life of Jennifer Aniston (including her collection of wigs). Now this is one you have to watch!
5. Bradley Cooper for Haagen Dazs:
Errrm, who on earth would pick ice cream over the gorgeous Brad? We just can't fathom it.
What commercial drives you mad?
GARY BARLOW GETS ELTON JOHN ON NEW ALBUM
GARY BARLOW CONFIRMS SOLO ALBUM
MORE CELEBRITY NEWS