President
Barack Obama
and David Cameron have caused the mother of all decorum debates, after being photographed taking this funeral selfie at Nelson Mandela's memorial.
The fun-loving pair were taking a snap with Danish PM Helle Thorning-Schmidt (who the Daily Mail referred to as a
'flirty dane'
- but we'll just bottle that rant up for now) at the memorial service for
Nelson Mandela.
While newspapers found the whole thing disrespectful - the photographer of the photo has said everyone is getting all het up about nothing.
Writing in
APF
, photographer Roberto Schmidt explained, "All around me in the stadium, South Africans were dancing, singing and laughing to honour their departed leader. It was more like a carnival atmosphere, not at all morbid."
"The ceremony had already gone on for two hours and would last another two. The atmosphere was totally relaxed – I didn't see anything shocking in my viewfinder, president of the US or not," he added.
Well there you have it. Even before this statement had been written - people on
Twitter
were much more understanding...
Not sure why people are getting so exercised about #selfiegate, the whole #Mandela memorial looked like a chaotic party

— Jonathan Millins (@euro_jonathan) December 11, 2013
#selfiegate ~ utter self-righteous & pious tosh. Mandela himself is chuckling at the pic as I type.

— HenryHamlyn (@HenryHamlyn) December 11, 2013
Controversial #selfiegate at Mandela's funeral. I think he would have laughed. Humanises politicians that's got be a good thing. #Socmed

— Craig Armiger (@craigarmiger) December 11, 2013
And afterall - if we're talking funeral selfies, these are much worse....
#FuneralSelfie pic.twitter.com/gsi7z84M75

— Yung Heisenberg (@ChillSquareLife) September 3, 2013
This guy '#RIPGrandma'-ed this snap...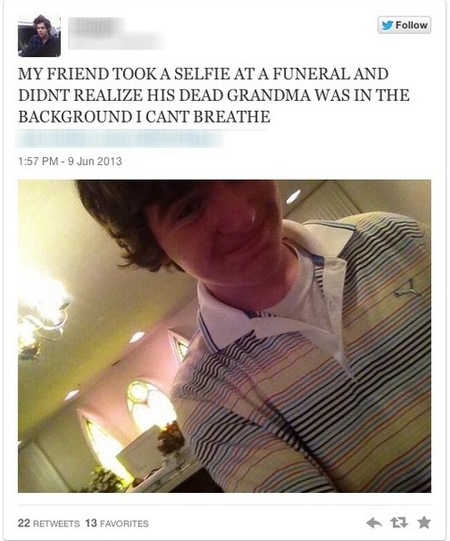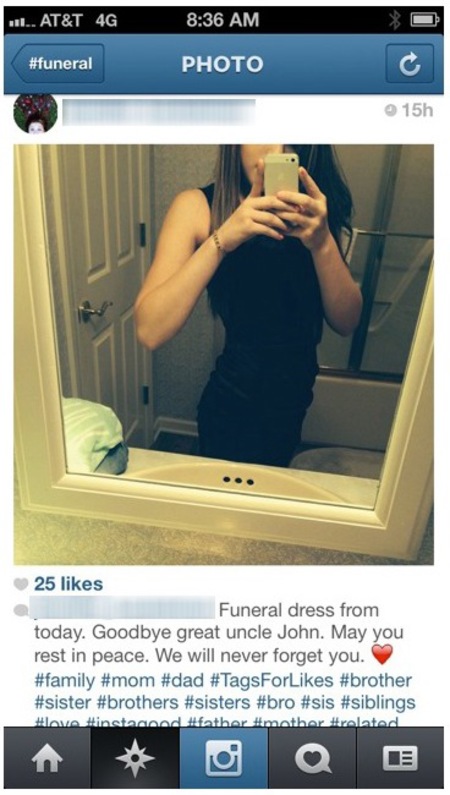 Told you they were bad. Tweet us your thoughts
@handbagcom
IS THIS THE SLEAZY SIDE OF SELFIES?
TAYLOR SWIFT DOES THE PHONE CAMERA LIPPY TRICK TOO
MORE GADGET NEWS