Any time there's a new
Leonardo DiCaprio
film we get pretty excited and the stars were out in force for the UK premiere in London last night.
When someone showed us the first trailer for
The Wolf of Wall Street
we were sold.
Following the story of a frankly, selfish, money hungry stockbroker, we see Leo take on the role of Jordan Belfort.
Not one for the faint hearted, this film has a lot of three things: naked people, drugs and swearing.
We sense a very
dangerous drinking game forming...
Thing is, in a lot of films, and of course in the music industry,
the question of nudity is quite the contentious one
.
And yet, watching this was strangely inoffensive.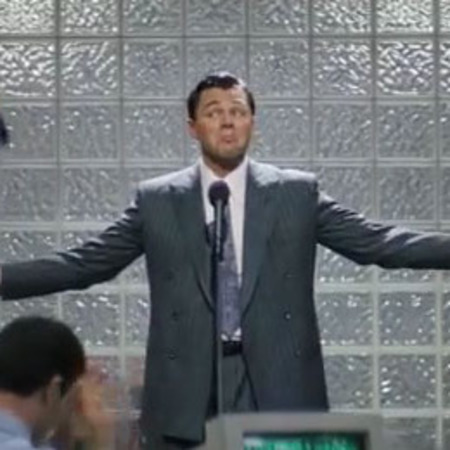 By the end of the film you will be nigh on indifferent to the sight of boobs and muff. Yes, there are a lot of lady parts.
So why doesn't it offend in the same way as
Miley on her Wrecking Ball
?
Well, because this story is being told with the complete awareness that the world it is depicting is outrageous, unattractive and excessive to the point of disgusting.
It's not for the prudish but The Wolf of Wall Street is a brilliant film and I love Leo so much it hurts.

— Alexandra Light (@alexandraklight) January 8, 2014
The Wolf of Wall Street was disturbing. I've seen enough naked women for a lifetime. I don't even wanna see myself naked anymore.

— karen (@xrocknroll) January 8, 2014
Even Leonardo himself was anxious to explain that though all the nakedness was him, the debauchery was nothing like his hedonistic days of old.
He told
Extra
, "Please don't compare me with this dude at all! Are you out of your mind?"
Maybe that's the other reason, we love Leo and we know he's acting (kind of)...with
Miley,
we're not so sure.
With the
recent focus on Amy Adams' boobs
we're wondering, is Hollywood joining the music industry in its naked obsession? Tweet us
@handbagcom
The Wolf of Wall Street
is released in UK cinemas on 17th January 2014.
FILMS TO SEE THAT ARE TIPPED FOR OSCARS
SERIES 4 AND 5 OF SHERLOCK IN THE MAKING
MORE QUESTIONS ABOUT LIFE AND WOMEN