We love going home for Christmas. Mum's cooking, dad's novelty jumpers, granddad falling asleep on the sofa…So why do we start to feel the pressure building after a few days with the family?
Family discord is totally normal at Christmas. According to research, 3.18pm on
Christmas Day
is the peak time for festive fall-outs.
However, there are some things you can do to
keep things calm this Christmas...
HOW TO HAVE A CALM CHRISTMAS
Stop clock-watching
One of the
biggest stresses at Christmas
comes from trying to get everything ready for a certain time, so take the pressure off by going with the flow a bit more.
Set rough timings for eating Christmas lunch and opening presents, but don't panic if they don't happen exactly on time. You'll find that being more relaxed means fewer arguments.
Turn the other cheek
We know this can be incredibly hard, especially when your sister knows exactly what to say to make you want to poke her in the eye. But many
family disputes
can be completely avoided by quietly overlooking an offence and moving on - just let digs bounce off you.
Keep your blood sugar up
Lots of family bickering comes down to people being hungry. Set out some
nibbles for people to graze on
before lunch to avoid a dip in anyone's blood sugar.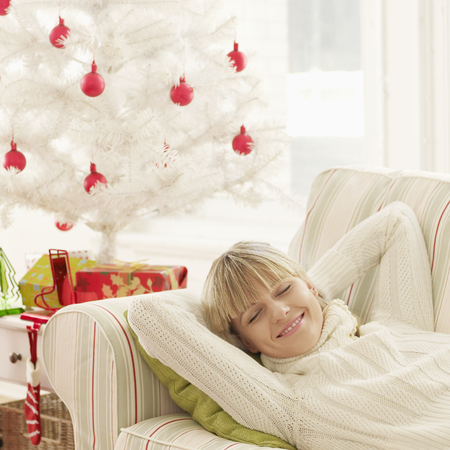 Agree on a TV schedule in advance
Don't let Christmas afternoon descend into a scrap over the TV remote. Instead, sit down with a copy of the
Radio Times
and decide in advance, when the pressure's off. Make a note of what you're going to watch and what you're going to record for later. You don't want to discover that the end of the
Eastenders Special
is missing when you sit down to watch it on Boxing Day.
Avoid Monopoly at all costs
This should go without saying, but avoid any games that are likely to cause or exacerbate arguments among family members. If dad insists on playing a game, choose something team-based, like Pictionary or charades.
Be a team player
Don't leave mum to sweat away in the kitchen while the rest of the family fart around in the living room. Ask mama to assign a useful task to every person, from
peeling potatoes
to making the sauces or setting the table. Many hands make light work.
Show your gratitude
For many families, sitting down to eat together is a rare occasion - so make the most of it. Before diving in to the
cranberry sauce
, propose a toast to your family and thank everyone for their contributions to the day.
HOW TO HAVE A STRESS-FREE CHRISTMAS
RECIPES TO MAKE YOU A CHRISTMAS DINNER MASTER
EVERYTHING YOU NEED FOR A STRESS-FREE CHRISTMAS