Waiting for
Agnes Towler
and Victor Colleano to stop dancing around one another on
Mr Selfridge
feels like a somewhat thankless task, especially when Henri Leclair is back.
The pair continued to bicker and avoid one another's eyes as Agnes tried to finish the store wide empire display.
To make matters worse, the moment after Victor had told Agnes to essentially get over it, "some people have real problems",
the handsome Frenchman
reappeared.
Dash it!
Victor, being proud and more than a little suspicious of Agnes' feelings towards Henri, then decided against apologising.
Because, you know, it's best to let the woman you love spend time with you biggest rival when she's furious with you.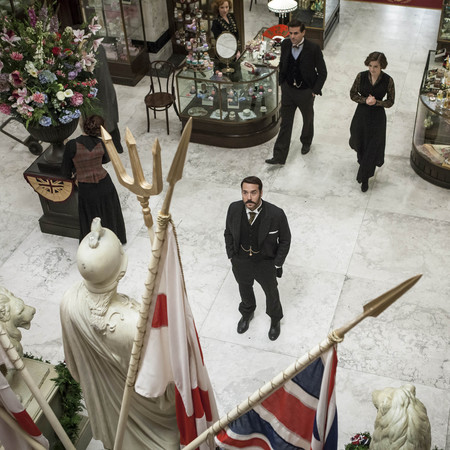 Good decision, well made Vic.
Meanwhile, back at chez Colleano the British born Italians were not feeling the love from the neighbours, leading Victor to make his second great choice of the episode.
He kissed Gabriella -
the woman whose baby he was holding in the first episode of the series
- the look on his face said it all, this is not a love match.
Back at the Selfridge household, Gordon was unimpressed with his mother's attitude and told her so.
The general message was, make an effort with Harry or go back to the US.
He also essentially told her that they needed to get back in the sack.
He was very candid.
It seemed to work though, as Mr Selfridge suggested she go back across the Atlantic as well and she assured him she was willing to make it work.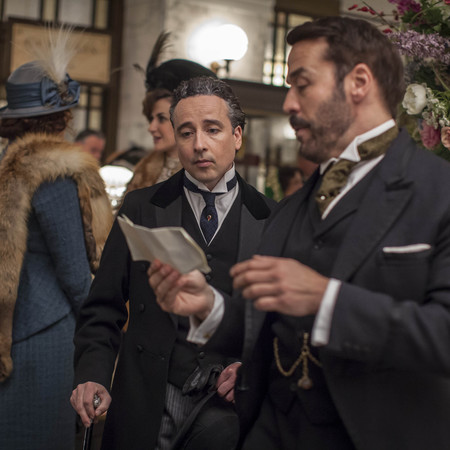 Hurrah! Finally a bit of a happy love story...kind of.
Back at the store and Mr Grove was in serious danger of losing his job just as Miss Mardle comes into a fortune.
Awkward.
Also Lord Loxley is all types of suspicious as he gets some list of leather suppliers from Harry.
The episode ends with the looming threat of war as everyone's fears are realised when it is finally declared.
Will war finally make Agnes and Victor wake up to their feelings or will rash decisions leave them apart forever?
MR SELFRIDGE: JUST WHAT HAPPENED TO HENRI LECLAIR?
THE TV SHOWS RETURNING IN 2014
MORE TV NEWS AND GOSSIP