With World War I claiming most of
Mr Harry Selfridge
's staff, you'd hope those that remained would be trustworthy. Not so.
The shady characters are mounting up and the saddest of these has to be the once noble Frenchman,
Henri Leclair.
After last week's exchange of money with a stranger
, we had questions.
Well, we weren't the only one.
Mr Thackeray is not adjusting well to war, so the old fashioned busy body takes it upon himself to work out just what Mr Leclair is doing.
Although we refuse to believe that Henri is working as a spy for Germany he may want to be more careful.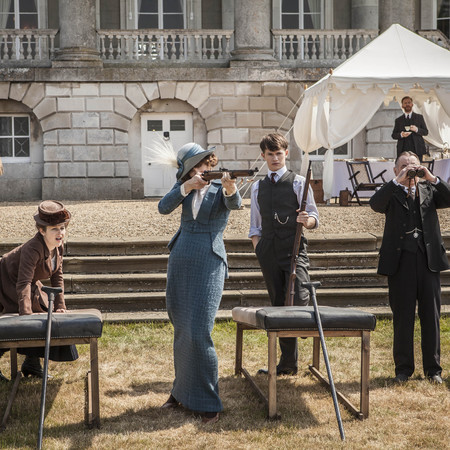 The head of fashion followed him to a house where he had been looking for a German woman.
Oh dear.
Meanwhile, Harry Selfridge looks set to play himself into a position he will not enjoy.
After taking all of Lord Loxley's money in a card game it seemed like this is the kind of behaviour the fellow be-suited men were after.
Also, Delphine, she set the whole game up.
Not trusting her much either.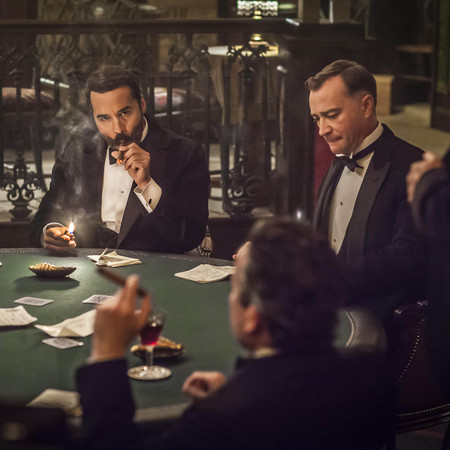 See what war does to people! We're just convinced
Harry is set for ruin...
One person we do trust is the lovely Victor - who finally kissed Agnes!
Their mild mannered courtship
may be the romance in the show but it's definitely the best.
After confirming that her relationship with Henri was entirely over he made his move.
Hurrah!
Who do you think is the darkest character? Are you like us - trust no one? Tweet us
@handbagcom
MR SELFRIDGE: LORD LOXLEY TO RUIN HARRY?
MR SELFRIDGE: VICTOR WHO? HENRI IS BACK
MORE TV AND CELEB NEWS