Benedict Cumberbatch
can apparently thank his "Byronic" looks for being declared the "first sexy Sherlock" by
the BBC drama
's co-creator Mark Gatiss.
With everyone desperate for another series, we think this is part of the problem.
The fandom of Benedict is ever rising and after that
epic photobomb at The Oscars
, not to mention his
dance off with Michael Fassbender at the Golden Globes
, we think perhaps if he was less attractive, he'd be able to film new scenes.
Speaking to
The Metro
, Mark Gatiss said, "Everyone wants to carry on doing Sherlock.
It's a simple matter of schedules
– particularly Benedict and Martin.
They've become superstars, which is brilliant, but we all want to carry on as long as we can.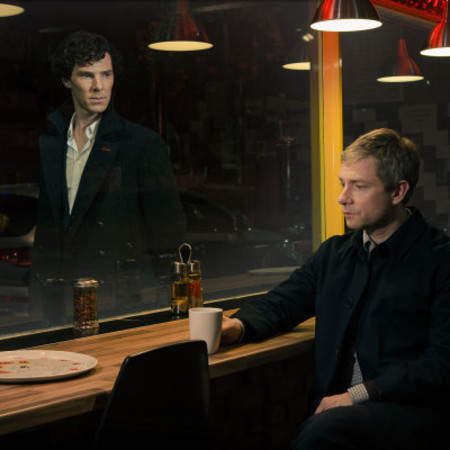 "There was suddenly a kind of outraged response that it might not be back until 2016 but that's precisely how long it always is.
It's always two years! But we'd like to return soon, of course."
Ben's superstar status is no doubt partly down to those "Byronic looks".
Gatiss continued, "He can't be tamed. It's attractive. Those are the people we are attracted to, the ones that aren't interested.
I think it's that and the combination of the Byronic looks that Benedict has – and the coat! – that's made him into, possibly, the first sexy Sherlock Holmes."
Meanwhile, 'Cumberb*tches' can watch
his new movie
while they wait.