The Only Way Is Essex
has been centred around the question of
has Lockie cheated on Danielle
?
With Danielle essentially deciding he's innocent, that pesky 'fish finger' took to Twitter to make sure people knew just who she was and claim once more, that Danielle is being well and truly mugged off.
Last night saw Bobby bury the hatchet with both James and Dan, but not before he gave her this Brighton girl's phone number.
Still working off the assumption that she must be lying after her claims that James was fully shaved, couldn't get it up, and saw her out at 7am, she decided to delete the number without calling.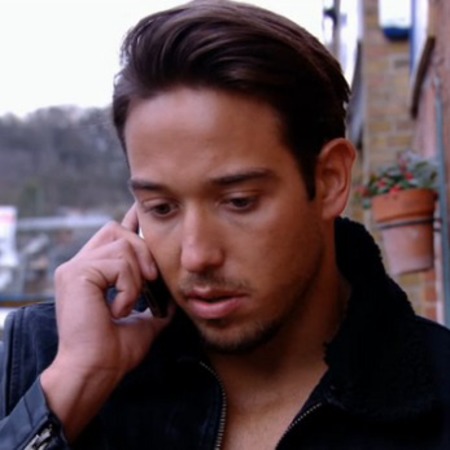 The look of relief on James' face was a picture - but hey maybe that's just his face...
Meanwhile, Sallie Axl was getting on social media to add some serious fuel to the fire.
She tweeted, "Sorry James you had the smalls out but I said no #sorry #notsorry"
Photos will prove your lies #sorrynotsorry

— Sallie Axl (@Sallieaxl) March 17, 2014
Clearly not a steak when your man lies about you being a actress! Loving seafood best of the best

— Sallie Axl (@Sallieaxl) March 17, 2014
She then went on to retweet a number of TOWIE fans posts about her being 'the one Lockie cheated with'.
Back in Essex we saw
Diags and Fran
shared their first date, and yes, it was adorable.
From heartwarming to heartbreaking, we then saw Gemma Collins tell Arg that she loves him.
In their words, she got pied - he told her he loved her as a friend and they need to stop sleeping together.
Oh yeah, they had sex on a table in a cupboard at
his food party last week.
Romantic.
This episode ended with tears and we're pretty sure there'll be more on Wednesday.
Danielle has finally broken her silence on Twitter and, as well as retweeting some messages regarding the confusion of claiming to have slept with him and turned him down, she posted this:
I'm actually in fitss that this silly slag would claim to be the "fishfinger" from Brighton #NoRespectForHerself #FameHungry #OverIt

— Danielle Armstrong (@Daniarmstrong88) March 18, 2014
Do you think he cheated? Tweet us
@handbagcom
TOWIE: DANIELLE DUMPS LOCKIE OVER CHEATING VIDEO
TOWIE: PROOF THAT LOCKIE DID CHEAT ON DANIELLE
MORE TV NEWS AND GOSSIP