We all remember the saga that was
Andy Jordan
and
Louise Thompson
's relationship in
Made In Chelsea series 6
- so have they learnt their lesson in the new season?
We sat down with resident
musician Andy
and got the low down on what's in store for
series 7
, and how things are between himself and the little one.
He told us the upcoming episodes are full of "tears, tantrums and tension," so we can't wait!
When we got talking about his ex-girlfriend, he admitted things were not "resolved".
Seriously if
Andy and Louise
get back together, there's no hope for this man.
He explained, "You know, it's one of those things, it's quite difficult to deal with a
break up on TV.
"
We imagine that would be pretty dreadful...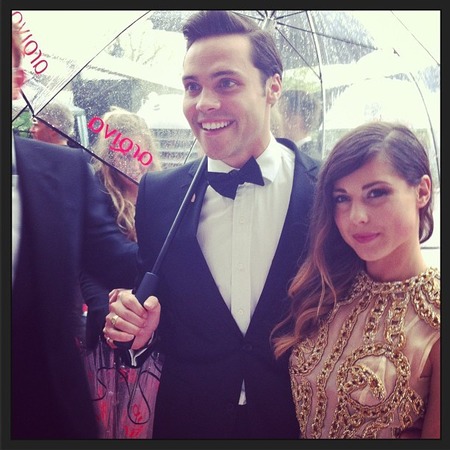 "You get put in situations where you're going to see each other all the time.
It's up and down, and it never really gets resolved as any real relationship doesn't.
We just take it as it comes and we have good times and bad times." He said.
For anyone worried that Andy's made some bad life choices
(she did admit to sleeping to a certain pop star
, and
we still don't know the truth about Spencer
!) he has assured us he is single.
He said, It would be nice, I keep trying [to get a girlfriend] I'm ready to get stuck in..."
Don't worry those aren't the words of a new
womanising Spennie
mark two.
He explained, "I'm single at the moment, but I would like to have a relationship in 2014."
Ladies, form an orderly queue, but you may want to hurry, he's told us he's sure he'll get lots of girls
when filming the spin off series in New York.
STEVIE'S FIRST DRAMATIC MADE IN CHELSEA SEASON
ALL THE MADE IN CHELSEA GOSSIP AND NEWS
MORE TV NEWS AND GOSSIP