The relationship between
Ricky and Elliot
was as friendly as ever on last night's
TOWIE
with the pair coming face to face in yet another family affair.
This time Ricky had reinforcements with mum and dad coming along, you know to remind the Wrights to stay out of it.
No, they did not see the irony.
Needless to say things got heated as the pair argued over the same thing again and again.
It all got a bit awkward when boxer Elliot slammed his hand on the table and told Ricky to stop shouting - again, not a hint of irony anywhere in the room.
With Jess in the middle as always, she took to Twitter to share the love and retweet this:
Wow! Who do we side with? Elliott? Ricky? Nope, Nanny Pat. @RealJamesArgent nearly crushed her! #TOWIE pic.twitter.com/vi5YGtuoQy

— Only Way Is Essex (@OnlyWayIsEssex) March 23, 2014
*Spoiler Alert*
We're wondering if Elliot's heated discussion with Ricky spurred him on for
his fight with Lewis
, because we've found out that Elliot knocks him out in the first round!
After all that talk it seems like maybe Bloor shouldn't have given Grace a big old pie to the face - would have been nice to have someone kiss it better...
Last night, on a second date, things seemed lovely - he was happy she was in his corner and other such
boxing
metaphors,
Then in a chat with the lads he admitted that he wasn't really feeling it and told her this by having one of the most awkward conversations in history.
You know, "I'm putting so much into the fight, it's draining."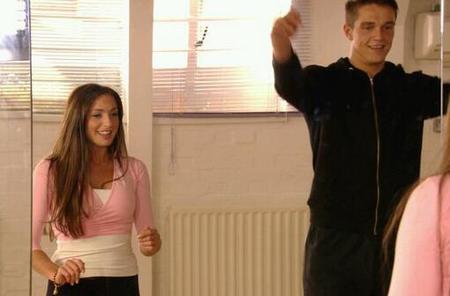 Arg said i was punching not me surely you all just saw that? Grace is a lovely girl we hung out and the spark wasn't there what can i say?

— Lewis Bloor (@lewis_bloor) March 23, 2014
Needless to say she wanted the ground to swallow her up.
Meanwhile, Lockie spent much of the episode angrily staring into space, rueing
his actions with Danielle and Sallie Axl.
The only other drama came from Jasmine who still
really
fancies Dan. As in, nearly cried when he asked her how he felt about him training with Georgia.
Georgia was not amused.
Anyone else excited about where this storyline is going to go? Tweet us
@handbagcom
Check out a sneak peek of the boxing match
TOWIE: DANIELLE DUMPS LOCKIE OVER CHEATING VIDEO
SAM FAIERS AND FERNE MCCANN HAVE A WHITE OFF
MORE TV NEWS AND GOSSIP