Lucy Watson and Jamie Laing
are the
Made In Chelsea
almost relationship we've all but completely given up on, but was the failing partly down to her bizarre dating game play?
The Chelsea girl's book,
The Dating Game
reveals all sorts about her love life, as well as all the sage wisdom she has acquired over the years.
We broke her Enigma level code, and worked out that "S - The Player" refers to
Spencer Matthews
, "AJ - The Rebound" refers to
Andy Jordan
, and "JL - The Almost Boyfriend" refers to
Jamie Laing
.
We know, someone call up MI5, we're your new recruits.
So, of course we skipped through to find all references to 'JL' and found Lucy's advice and behaviour borderline ridiculous.
Did Lucy's games stop love with Jamie?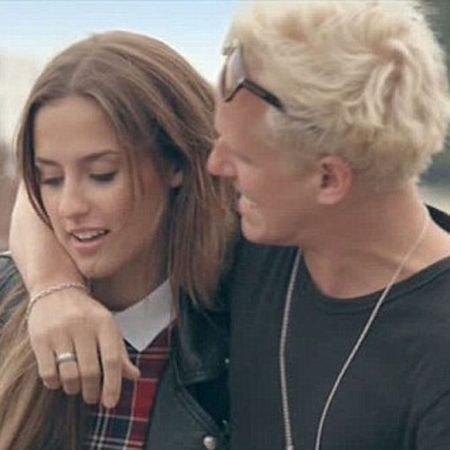 "Text him then don't reply"
She explains, "I often used to text JL, and then never reply when
he texted me back
. It left him totally confused."
She went on, "I'd eventually get back to him saying, 'sorry for late reply, I've been really busy.' When actually I'd been at home playing with my dog."
"Always keep him waiting 5-10 minutes"
When arranging a date with 'JL' she warned him to be on time and then arrived over 5 minutes late.
Apparently, "after getting over his initial annoyance JL spent the rest of the evening trying to impress".
"Don't let him stay over"
"Even if you have had sex. It confuses him."
According to Lucy, if you send him home, he will "think about you all night."
Aim to confuse him
Much of Lucy's advise is based around confusing
the guy you're dating.
Call us old fashioned, but confusion is just not our end game.
Sure, protect yourself, but changing the time or day of your date just to "leave them confused" seems bizarre and actually pretty impossible.
We're lucky if we can find the time for the date in the first place!
The Made In Chelsea Girl's handbag collection
Lucy Watson's book, The Dating Game is out on 22nd May
In fairness to Lucy,
Jamie's moves in Miami
would have put a pretty big spanner in the works for us too. What do you think? Was Lucy's behaviour part of the problem? Tweet us
@handbagcom
LUCY WATSON'S GUIDE TO TAKING THE PERFECT SELFIE
ALL THE MADE IN CHELSEA GOSSIP AND NEWS
MORE CELEBRITY NEWS