Kendall Jenner
has taken her fashion status to the next level with her latest shoot for
Paris Vogue
, pictures from which she and the rest of the Kardashian clan have posted on
Instagram.
The model of the moment has stunned the fash pack
once again with the shots, but it seems some members of the public are less impressed.
After her mother Kris posted this photo, people were quick to comment on just how thin the other models look.
One user wrote, "Kendall is the most striking visually. The one on the right looks like a haggard
Emily Blunt
and the one on the left looks like a skeleton with huge eyes. Good job."
While another demanded Kris "open [her] eyes.
The two other girls look sickly and dead. Not very flattering picture of any of them. I know this is high fashion but SERIOUSLY????"
While it is clear that Kendall looks the healthiest of the three, and
is a big advocate of working out
, rather than any dangerous
starvation diets
, some people obviously aren't happy.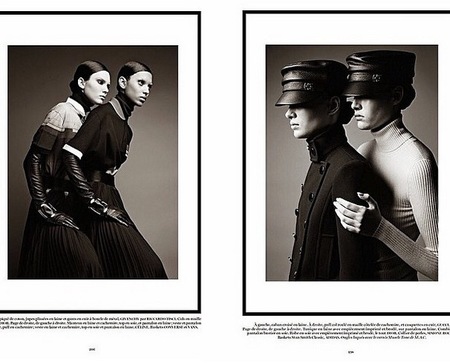 What do you think, are people overreacting? Tweet us
@handbagcom
IS KENDALL JENNER THE NEXT BIG SUPERMODEL?
RIHANNA'S TOPLESS VOGUE SHOOT. DISCUSS.
MORE CELEBRITY NEWS