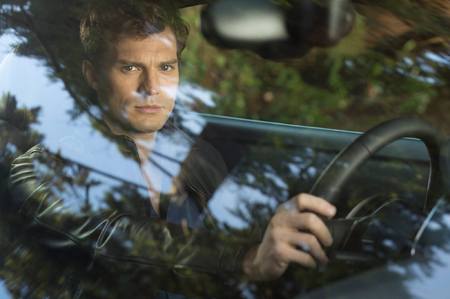 Just in case
Jamie Dornan naked in a bathtub
wasn't enough, a new pic of the actor as
Christian Grey
has been released, and he is obviously easy on the eye.
The first official still from the
Fifty Shades of Grey
movie was released on their Facebook page to celebrate Christian Grey's birthday. Because apparently celebrating fictional people's birthdays is now a thing.
In it,
Jamie Dornan
looks smoulderingly
at the camera while simultaneously driving his swanky car.
Naturally, the picture has divided the opinions
of the Twitterati
. There are those who refuse to acknowledge him as the rightful BDSM boss:
@IMDb unfortunately he doesn't float my boat! Nothing like I pictured for Christian Grey #50ShadesOfGrey

— ♥Jo Wormald♥™ (@Peytonsnanajo) June 19, 2014
Are people even excited for the fifty shades of grey film anymore?

— Nola Marianna (@NolaMarianna) June 18, 2014
And then there's the fan club:
Hot damn. That smouldering face! #50ShadesOfGreypic.twitter.com/bJ123MghwZ

— Kate ❁ (@sugarfixx) June 18, 2014
OMG it's getting real!!!!
First Movie Still of Jamie Dornan as Christian Grey! OMFG!!! I just had a heart attack! pic.twitter.com/9s4gjolqz1

— THE50SHADESWORLD.COM (@x50ShadesWorld) June 18, 2014
What do you think? Tweet us
@handbagcom
JAMIE DORNAN PROMISES MORE THAN HIS BODY
CHRISTIAN GREY MIGHT GIVE YOUR MUM A STI
MORE CELEBRITY NEWS