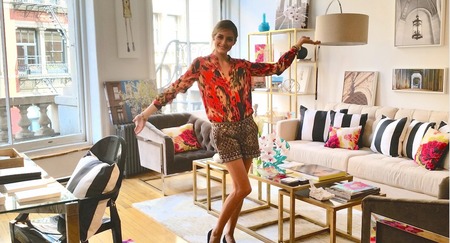 Is anyone else getting just a teeny, tiny, weeny bit annoyed at how perfect
Olivia Palermo
is?
Not content with being a
blogger
,
trendsetter
, reality TV star and model, Olivia has turned to interior design. And she's
bloody perfect
at that too.
The
bride-to-be
has teamed up with photo personalisation site
Shutterfly
to design a living room using some of Shutterfly's products.
Now we thought
Olivia's closet
is where we'd want to live, but we take it back. We want to live forever in
her living room
.
The
clash of floral and stripe
cushions, the retro armchair, colourful coffee table books and
eclectic wall art
. We've died and gone to decor heaven.
We also applaud Olivia's effort to
match her outfit
to the background with a print blouse and embellished shorts. Do we sense a new trend on the way?
Inside Jessica Alba's home
Tweet us your thoughts
@handbagcom
HELP US FIND OLIVIA'S BAG
EVERYTHING WE KNOW ABOUT OLIVIA PALERMO'S WEDDING
MORE CELEBRITY NEWS