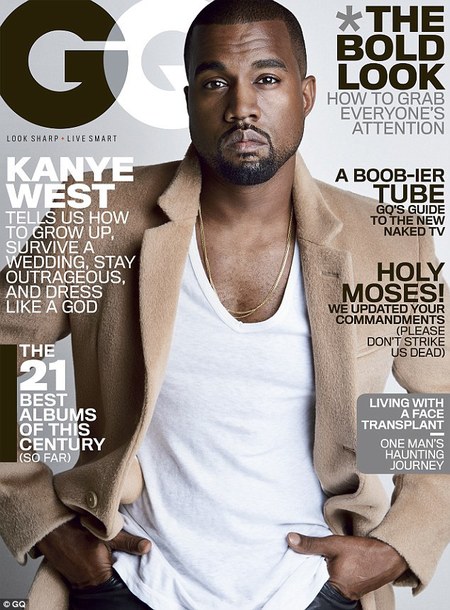 The famously humble (note the sarcasm) Kanye West has given an interview to
GQ magazine
, and what can we say?
The rapper and Mr.
Kim Kardashian
has given us a very interesting insight into his life indeed. Let us show you what we mean.
Kanye West is modest
"I think Yeezus is the beginning of a completely
new era of music.
It was all new rules. It just broke every rule possible. None of the ideas were popular ideas."
Kanye West wants you to respect him
"My goal is just to be respected as a man when I walk down the street with my family. I don't care what your job is, you're not gonna talk down to me, you're not gonna try to
get a rise out of me
. I'm a man first. And in establishing that, some interesting things have happened."
Kanye West likes fish
"But also, there's no fangs. I don't have fangs. I'm a porcupine. I'm a blowfish. Like, I'm a - what's the fish that blows up? Yeah. I'm a blowfish. I'm not a shark, I'm a blowfish."
Kanye West thinks being a celeb is tough
"And what I talked about in it was the idea of celebrity, and celebrities being treated like blacks were in the '60s, having no rights, and the fact that people can slander your name. I said that in the toast."
Kanye West likes to namedrop
"Carine Roitfeld is
the Walt Disney
of what Tumblr is today. She is the Kanye West of what Tumblr is today. She's the single most important person to what street style is today. And she was at the wedding seven seats down from Kim, who is one of the number one fashion plates of today."
Kanye West is changing the fashion world
"Alexander Wang made sure that I was able to
go to a Balenciaga show
, and I was never allowed to do that before because I was a celebrity. Listen to what I'm saying—me, as Kanye West: I guarantee you, I'm more than 50 percent responsible for every men's shoe that they sell. Me, the singular person. More than 50 percent responsible for every Balenciaga shoe they sell."
Kanye West and Kim Kardashian have mad skills
"One of the reasons why I think
that me and Kim
are very powerful together isn't just the concept of celebrity or this mega rap star and this mega-beautiful pop star. [...] And what I had to learn from Kim is how to take more of her advice and less of other people's advice. There's a lot of Kim K skills that were added. In order to win at life, you need some Kim K skills, period."
Kim kardashian and kanye west wedding pictures
DID KIM & KANYE RUIN CHERYL COLE'S BIRTHDAY FLOWERS?
BEST QUOTES FROM ALEXA CHUNG'S INTERVIEW
MORE CELEBRITY NEWS