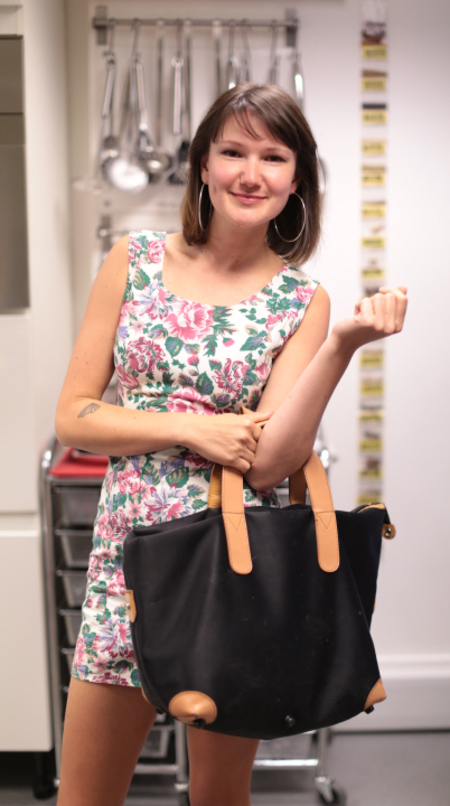 We're all familiar with
Lily Vanilli
's
mouthwatering cupcakes
and tiered naked cakes (if you want to create your own wedding cake,
we've got the tutorial
).
But do you know what the
prodigy baker
and cake designer
carries in her handbag
(clue: not cakes)?
There's only one way to find out.
What handbag do you carry?
"At the moment I have
this Gucci bag
. I'm not normally this glamourous, but it's a gift!"
What's the weirdest thing in your handbag right now?
"A flyer a Jehovah's witness gave me on the way here! And some pens I nicked from Barclays."
Is your handbag a temple or a dumping ground?
"I've only recently switched on
to having a handbag
, before that I was always a pockets kind of girl so this is a little bit more practical. I pick up a lot of fruit in the morning so it's more like a
shopping bag
."
What are your handbag essentials?
"Eyeliner, lipgloss, Carmex,
headphones
, money, keys."
What's the one thing you can't live without?
"Besides boring stuff likes keys and phone, I always have a hairbrush,
eyeliner, mascara
and that's it really."
What's the worst thing you've put your handbag through?
"I guess I've left it on the
back chairs in bars
, and on the floor, which is pretty dirty. Just like, abandoning it."
What do you carry in your handbag? Tweet is
@handbagcom
LILY VANILLI'S YUMMY CHOCOLATE CAKE RECIPE
A SWEET TOOTHED INTERVIEW WITH LILY VANILLI
MORE CELEBRITY HANDBAG CONFESSIONS