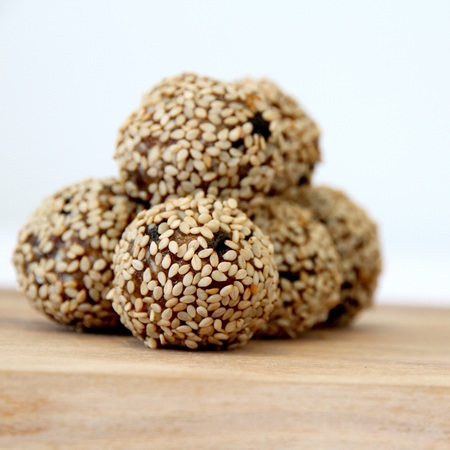 These healthy little bites are made in minutes, plus they're
packed with loads of energy
and goodness.
The
perfect snacks
for anywhere, anytime.
INGREDIENTS
1/2 cup brazil nuts
1/2 cup almonds
1/2 cup dried apricots
1/4 cup dried incan berries
1/4 cup dried blueberries
1/4 cup LSC (linseed/sunflower/chia)
1 tsp cinnamon
2 tablespoons Steens RAW Manuka Honey
3 teaspoons lemon juice
Sesame seeds for coating the finished bites.
METHOD
Pop all the ingredients excluding the sesame seeds into a food processor and whizz until completely combined and nuts are chopped up. Roll into small balls and coat in sesame seeds.

Get creative and design your own recipe bites by substituting the nuts and dried fruits with your own additions or even try coconut instead of sesame seeds.
Recipe extract from Steens Manuka Honey, steensnewzealand.com
DUKAN DIET RECIPE: COURGETTE & FETA CHEESE BITES
PANCAKES WITH HEATHER HONEY
MORE RECIPES
LOTS MORE ON HANDBAG.COM