It's
getting warmer
and this means only one thing, we need ice cream.
This homemade
vanilla ice cream
topped with salted caramel sauce and
crunchy choccy
pretzels takes the whole chilled experience to another level.
What could be a
more perfect way to cool down
in the rising temperatures? We think zilch.
Caramel & choc crunch sundae recipe
INGREDIENTS
250ml (9fl oz) whipping cream
450ml (15fl oz) whole milk
6 egg yolks
125g (41⁄2oz) caster sugar
1 tsp vanilla extract
chocolate-covered pretzels
(see p238)
For the salted caramel sauce
200g (7oz) caster sugar
115g (4oz) butter, diced
120ml (4fl oz) double cream
1 tsp vanilla extract
1 tsp sea salt
METHOD
Heat the cream and milk in a heavy-based saucepan over a medium heat, until hot but not boiling.

In a separate bowl, whisk together the egg yolks, sugar, and vanilla extract.

Very gradually whisk the hot cream and milk into the egg mixture in a thin stream, whisking constantly.

Return the custard to the rinsed-out pan and heat over a medium heat, whisking constantly, until it thickens and just coats the back of a spoon.

Do not heat it too fast or for too long, or the eggs will "scramble". Remove the custard from the heat and transfer to a clean, cold bowl immediately, whisking for a couple of minutes to cool it down.

Cool the custard completely, then cover the surface with a layer of cling film (placing it directly on the custard) to prevent a skin forming.

Transfer to the fridge and chill for a minimum of 4 hours, or overnight.

Pour the chilled custard into an ice-cream maker and churn it until it is a thick, scoopable ice cream. Transfer it to a plastic container and freeze until needed.

To prepare the salted caramel sauce, melt the sugar in a heavy based frying pan over a medium heat.

As it melts, whisk frequently for 7–10 minutes, until it becomes amber brown. Add the butter and whisk to combine.

Remove from the heat and add the cream.

Continue whisking as the caramel bubbles, until it settles into a smooth mixture.

Whisk in the vanilla extract and sea salt. Set aside to cool completely.

To serve, roughly crush some chocolate-covered pretzels in a plastic food bag and scatter over the ice cream.

Finish with a drizzle of the salted caramel sauce.

Cook's tip: For a healthier version, try using a spoonful of the fresh berry compote with vanilla and thyme from p242 or the dried fruit compote from p60, and top with a handful of fresh blueberries, for some added texture.
PREP TIME
15 mins, plus chilling and churning
COOK TIME
20 mins
From The American Cookbook, by Caroline Bretherton and Elena Rosemond-Hoerr, published by DK, £16.99, dk.com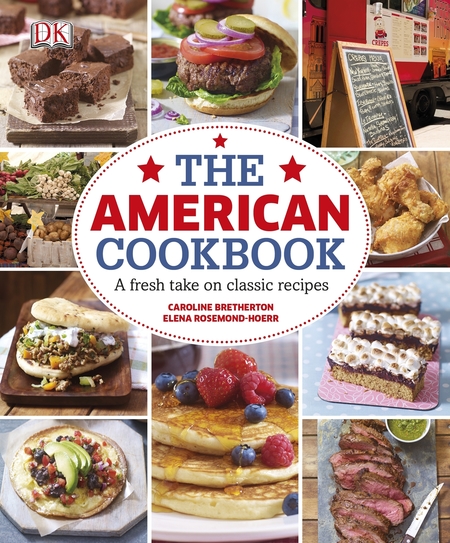 LILY VANILLI'S GLUTEN FREE CARROT CAKE RECIPE
PRETTIEST BLUEBERRY & LAVENDER CAKE RECIPE
MORE RECIPES
LOTS MORE ON HANDBAG.COM