These
cinnamon and sugar
sprinkled Spanish snacks
take literally minutes
to make and will be devoured just as quickly.
They're
so moreish
you'll be craving seconds...or even fourths...or...
Cinnamon churros & chocolate chilli sauce recipe
INGREDIENTS
25g (scant 1oz) unsalted butter
200g (7oz) plain flour
50g (13⁄4oz) caster sugar
1 tsp baking powder
1 litre (13⁄4 pints) peanut
or sunflower oil
1 tsp ground cinnamon
For the chocolate chilli sauce
50g (13⁄4oz) good-quality dark
chocolate, broken into pieces
150ml (5fl oz) double cream
1 tbsp caster sugar
1 tbsp unsalted butter
pinch of salt
1⁄4 tsp chilli powder or cayenne pepper, to taste
METHOD
Measure 200ml (7fl oz) of boiling water into a jug. Add the butter and stir until it melts. Sift together the flour, half the sugar, and the baking powder into a bowl.

Make a well in the centre and slowly pour in the hot butter liquid, beating continuously, until you have a thick paste; you may not need all the liquid.

Leave the mixture to cool and rest for 5 minutes.

Pour the oil into a large, heavy-based saucepan or deep-fat fryer to a depth of at least 10cm (4in) and heat it to 190ºC (375ºF). Test the oil as shown in the technique on p144. Keep the correct-sized saucepan lid nearby and never leave the hot oil unattended.

Regulate the temperature, making sure it remains even, or the churros will burn.

Place the cooled mixture into a piping bag fitted with a 2cm (3⁄4in) star-shaped nozzle. Pipe 7cm (23⁄4in) lengths of the dough directly into the hot oil using a pair of scissors to snip off the ends. Do not crowd the pan, or the temperature of the oil will go down.

Cook the churros for 1–2 minutes on each side, turning them when they are golden brown. When done, remove the churros from the oil with a slotted spoon and drain on kitchen paper. Turn off the heat.

Mix the remaining sugar and the cinnamon together on a plate and toss the churros in the mixture while still hot. Leave to cool for 5–10 minutes before serving while still warm.

For the chocolate chilli sauce, put the chocolate, cream, sugar, and butter in a medium, heatproof bowl over a saucepan of barely simmering water (see technique for melting chocolate on p238).

Heat the mixture, stirring constantly, for 3–4 minutes until the chocolate melts and the sauce amalgamates and thickens.

Take the sauce off the heat and add a pinch of salt.

Add the chilli powder or cayenne pepper to taste, a pinch at a time, and taste as you add it.

The sauce will not immediately appear hot or spicy; the right amount of spice will be reached when it leaves a slow heat in your mouth, but does not overwhelm you.

Transfer to a bowl and serve immediately with freshly made churros.
PREP TIME
10 mins, plus cooling. Makes 20
COOK TIME
15 mins
From The American Cookbook, by Caroline Bretherton and Elena Rosemond-Hoerr, published by DK, £16.99, dk.com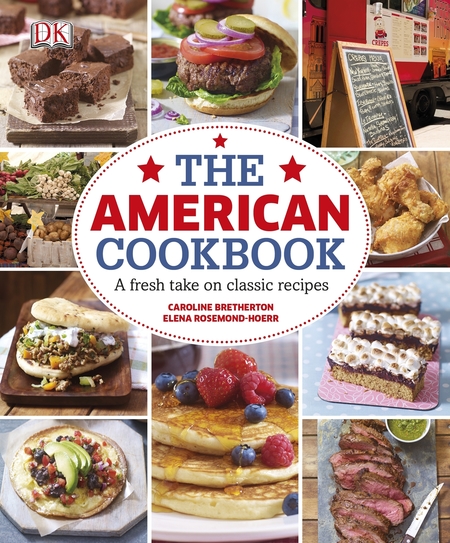 CARAMEL & CHOC CRUNCH SUNDAE RECIPE
LILY VANILLI'S GLUTEN FREE CARROT CAKE RECIPE
MORE RECIPES
LOTS MORE ON HANDBAG.COM