Why go?
Fans of eggs, fans of brunch, fans of hip cafes with just enough of that kind of simple design to make you feel cool - but not so much that you feel very uncomfortable - this place is for you.
With an uncomplicated menu and a small friendly team of staff, the Good Egg pop up residence at the Cortado in North London is just what you need, whether you're nursing a hangover, or just want a place to hunker down with friends.
Eat?
The Good Egg has cultivated it's menu to offer something a bit different to the usual greasy spoon or hollandaise wielding establishments.
These guys have made things interesting with some more unfamiliar dishes from around the world.
Here at handbag we've been hearing all sorts, on the foodie grapevine - yes we spend a lot of time on
Instagram
- about Shakshucka.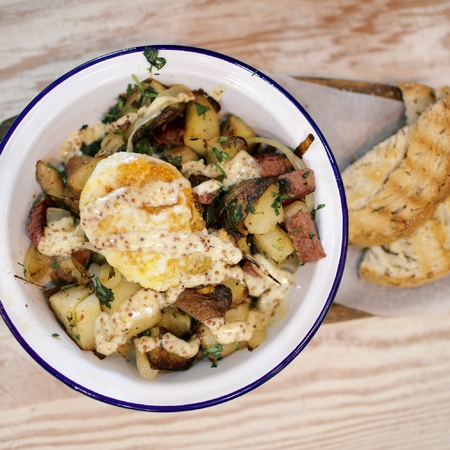 If you don't spend your days looking at '#foodporn', let us explain.
This is a North African, Middle Eastern dish of eggs baked in tomato and pepper goodness. At The Good Egg, they do it with a choice of either grilled halloumi or Merguez sausages.
We opted for cheese, and it was good.
If you're after something a bit closer to home, the 'Good Egg Hash' has all the makings of a breakfast favourite, with cured salt beef, crispy potatoes, onion, fried egg and a garlic, mustard mayo.
Alternatively, you can try out their breakfast buritto, filled with egg (obviously), potatoes, refried beans an cheese, you don't even have to pay extra for guacamole. You know you're somewhere classy when you don't pay extra for guac!
Even if you don't like eggs you'll find something - from soups to sandwiches - but seriously, who doesn't like eggs?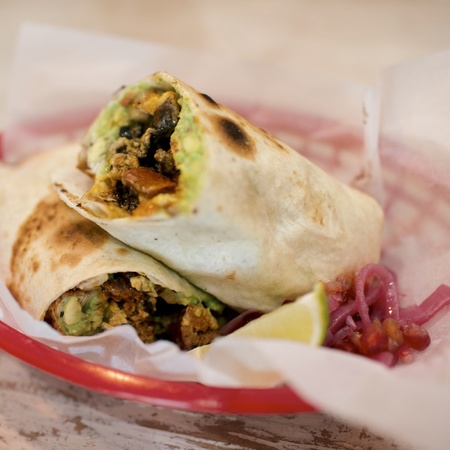 Drink?
This was a day time affair so we kept it PG.
That said, the Allpress coffee is tasty and the Yumchaa tea comes loose in the pot.
If you're after a bit of a kick - or hair of the dog - they also do Bloody Marys and Mimosas for £5 each.
Opening hours and prices
Brunch for two, with drinks £20
The Good Egg
residency at The Cortado, Gainsborough Studios on the Regents Canal, New North Rd, London N1 5EA.
Saturday-Sunday 9am-4pm.
After sell-out markets, popups and residencies, they will be opening their first permanent site later this year.
BREAK FOR STEAK AT THE MEAT CO, WESTFIELD
MILLIE MACKINTOSH'S DIET BREAKFAST RECIPE
MORE DAY TIME RESTAURANT REVIEWS