What are Miso Tasty soup sachets?
If like us you are always trying to
eat healthy at work,
but inevitably end up tucking into the slightly stale biscuit box, Miso Tasty soup sachets may well be the answer.
Single servings of classic Miso soup that you can
keep in your handbag
and cart around with you whenever you fancy a warming snack. Makes a great accompaniment to your boring lunch too.
Why do we love it?
Let us count the ways. Firstly, because for an instant miso soup, it is really delicious. We love the Spicy Aka soup version which comes with a bit of a kick. And each of the sachets are only 36 calories - the
perfect snack.
We also love the packaging. Sure that is not a reason to pick a soup...but it obviously is.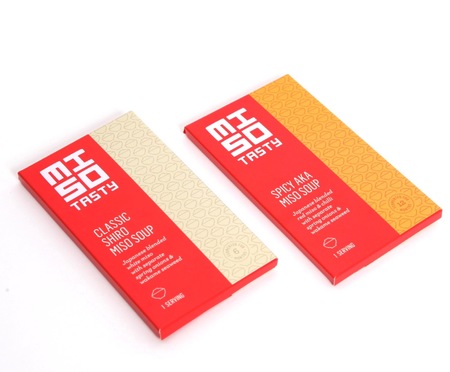 You can buy multipacks or individual servings which come in a little 'bento inspired' folding cardboard sleeve and contains a sachet of miso paste and a sachet of unami powder, wakame and spring onions (keeping the two separate is one of the reasons it is supposed to taste good).
Where to buy it
Single taster pack (£2) and a 8 pack (£7.70-7.90) are available online at
misotasty.com
Got a favourite portable snack? Tweet us
@handbagcom
10 best snacks under 100 calories
#HANDBAGHERO TONI&GUY SEA SALT SPRAY
THE EASIEST KALE CHIPS RECIPE FOR HEALTHY SNACKERS
MORE HEALTHY EATING ADVICE