Being close
, literally, affects
how happy couples are in their relationship
.
A new study conducted as part of the
Edinburgh International Science Festival
has claimed that the distance between couples as they sleep has a direct impact on
their relationship's health
.
It revealed that 86% of partners who snoozed less than an inch apart were
more content with their relationship
compared with 66% of those separated more than 30 inches apart.
According to the survey looking at responses from 1,000 people,
touching was also really important
, with couples reporting being happier than those who had a "no touching rule" while sleeping.
It even delved into the
most popular positions
, with almost half of dreamers lying back to back, and nearly a third facing the same way, leaving 4% facing one another.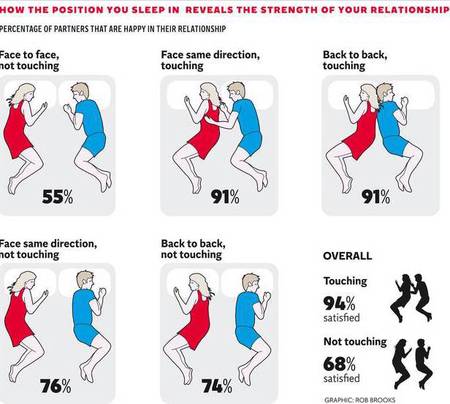 Things have got a lot more complex since
the simple battle
of who sleeps closest to the door or who gets
a better view of the TV
.
Sleeping the right way
and
in the right spot
just got way more crucial...
Thoughts? Tweet us
@handbagcom
IS YOUR FITNESS REGIME RUINED BY POOR SLEEP?
NIGHT OWLS MORE LIKELY TO GET LAID
MORE STUDIES FROM AROUND THE GLOBE
LOTS MORE ON HANDBAG.COM