Oh sorry, you've interrupted us throwing our
coffee machine
out the window as we only have room in our lives for this new miso machine.
The one touch gadget has been developed in Japan and costs less than £10 at
Marukome.
It can make up to 75 bowls of warming miso soup with one plug-in miso box and you can buy packets of dehydrated veggies and seafood to spice it up. We want.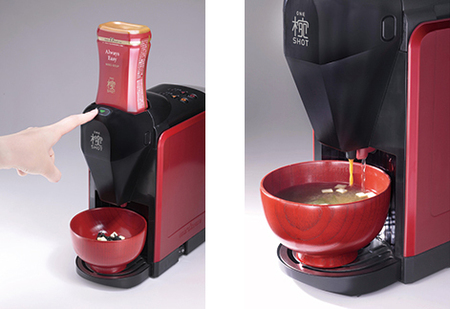 Whereas in the UK we scoff Miso as a
desk lunch
- in Japan it is part of a breakfast, and as the
Japanese diet has been proven to be one of the healthiest
- there has to be something in this, right?
How healthy is miso soup?


It contains isoflavones, believed to help fight cancer.


It has been suggested the oestrogen content can reduce the risk of breast cancer by up to 40%.


Made from fermented soy - it provides a big hit of healthy protein.


Miso is good for your immune system and is supposed to improve digestion.


It is packed with antioxidants such as zinc, manganese and phenolic acids which work as antioxidants in the body.


Miso does have a high sodium content - but there is debate that suggests it affects our bodies differently to table salt.


A LAZY GIRL'S GUIDE TO EATING HEALTHY
10 WAYS TO MASTER A JUICE DETOX DIET
MORE FOOD AND DRINK NEWS