Just because you are at a festival or camping in the wilderness, doesn't mean you have to eat pasta out of a packet. Oh no.
Cooking in one pot over a gas stove is not as limiting as you might think – and whipping up some tasty meals yourself will prevent you retreating to the burger vans.
Chop up the ingredients you need in advance and wrap in cling film or foil to carry in your cool box – eliminating the extra Tupperware weight.
Here's a couple of ideas to have a go at. Adapt at will.
1. Breakfast burrito
The joy of this is as you can make it as complicated or as simple as you like, depending on how much you are willing to carry.
Heat up some oil or butter in a pan, and crack some eggs and milk in over the stove to whip up some scrambled eggs. When they are barely set, toss in some jalapeños and a couple of chopped up tomatoes, and some cut up meat of choice – ham, precooked bacon, or if you have a secondary stove (show off), then warm through a can of chilli at the same time.
Heat some floured tortillas over the stove by wrapping them in foil, and placing them directly on a low heat, turning quickly.
Now assemble the burritos, adding as much or as little as you have to hand: sour cream, salsa, coriander, Tabasco, grated cheese along with the eggs and chilli if having.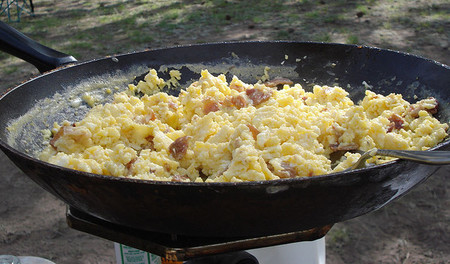 2. American big boy hotdogs
Pre cook some bacon at home, and cut up into little bits. Wrap it in foil, and pop it in your cool bag along with some pre chopped onions.
In a pan, heat up some oil and fry off the onions and warm up the bacon. Take the pan off the heat. In a griddle pan cook some sausages, or warm up some pre cooked frankfurters in warm water. Squirt whatever condiments you brought into some posh hot dog buns, chuck in some grated cheese, add the dog and the bacon and onion topping.
3. Healthy chorizo & veggie stew
Make your own thick stew for a warming meal that will give you bags of energy. Throw some chopped onion into an oiled pan and soften. Add a diced carrot, some celery, and any other veggies you fancy.
Add some chopped garlic, some chopped up chorizo and stir. Then add a tin of chopped tomatoes, a sprinkle of Tabasco sauce and a bag of spinach leaves. Stir until the spinach wilts a little. Serve with hunks of bread.
9 TIPS TO HELP YOU CAMP LIKE A PRO
KOREAN FRIED CHICKEN WINGS
7 BEACH FESTIVALS YOU CAN STILL GO TO