Why go?
If you're looking for a new Friday night watering hole, your first instinct is probably not to head towards the City. Yet tucked away between the endless branches of All Bar One and Prets that close at 6pm is your salvation – here lies The Happenstance.
Literally a stones throw from St Paul's, this cocktail bar and restaurant is big on whimsy. Unsurprisingly from the people behind The Anthologist and The Drift, there's a familiar sense of meticulously-planned fun.
The place is huge – walking from the entrance to our table at the back took at least 70 seconds. The décor almost defies definition. Like a sweet shop, an old-fashioned greengrocers, a New York bar, British canteen…
The venue includes a buzzy bar with a mixology table, a daytime deli/florist, and a main dining area with an open plan kitchen. It's super-charming. There are industrial pipes in the ceiling and exposed lights, but there are also feminine touches, including a mint plant in a newspaper-wrapped pot, and tealights in floral holders.
The restaurant is packed full of young professionals who've evidently come for the friendly service, huge plates and long cocktail list. This is a place that knows its city-heavy market, as referenced by the sweet new Oyster Card wallet we're given as we leave. Clever marketing indeed.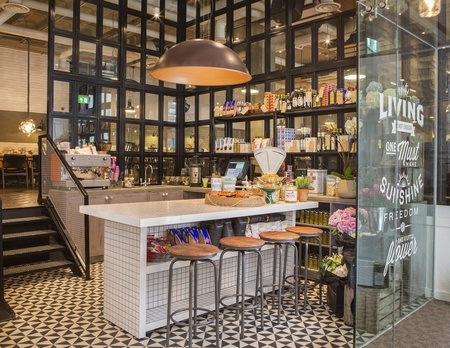 Eat?
The menu is substantial (we had to ask our waitress to give us more time to get through it all). Whether you're after brekkers, brunch, a Sunday roast or a pre-lash dinner, there's something to sate the appetite. You've got large flatbreads, po-boy sandwiches, steak and burgers. There's also a daily specials list to tickle your fancy.
We'd recommend the Superfood Flatbread as a sharing starter. It came topped with roasted butternut squash, red onion, goats cheese and pesto and spinach – and was fresh and delicious.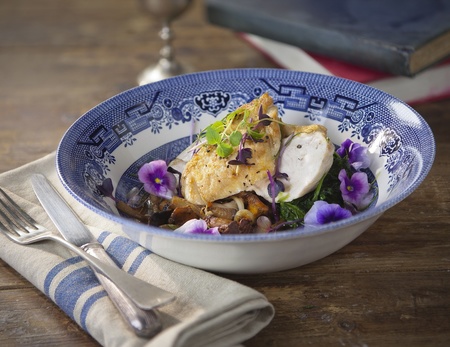 We followed this with the flambéed steak. Order this and Gareth from the kitchen will come out with his trolley of goodies and flaming wok and prepare it for you at the table. The result is succulent steak and a lick-the-plate peppery, creamy sauce.
Out of curiosity, we ordered a couple of unusual sides. The samurai fries were a big hit (think chunky chips smothered in chip sauce curry sauce) but the tahini-covered chinese cabbage didn't thrill us.
Pudding of toffee apple crème brulee was sweet and satisfying, and we loved our plate of roasted pineapple, which was served with a moreish dish of rum and raisin mascarpone. Very Club Tropicana.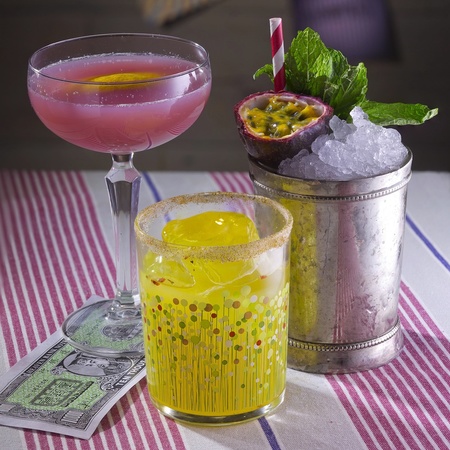 Drink?
Their funfair cocktails are a winner. The imaginatively-named 'Goldfish in a Bag' mixes gin, mandarin vodka, rhubarb bitters, tonic, grapefruit fish and edible lily pads, and is served… in a goldfish bag (clue's in the title).
Meanwhile, Tears of a Clown is a fairy garden of blue caracao-tinged mojito with tiny edible flowers and a striped paper straw. And the Rubber Ducky Old Fashioned combines 8-year-old rum and hoi sin bitters, and comes with an orange peel duck.
If you're planning on getting wrecked, go for a bathtub. Again, the clues are all there - it's a large-size sharing cocktail, served in a miniature bathtub.
At the other end of the spectrum is the range of skinny cocktails. The 76 calorie Poptail mixes white rum, aperol, watermelon and rhubarb bitters, and is served up 'soda pop' style in a cute glass bottle. And we fell in love with the 80 calorie Russian Rose Martini blended black vodka, lychee liqueur, ginger syrup and rose petal – it tastes deliciously like Turkish delight!
The lowdown
Cocktails from £8. Dinner for two (without drinks) £65.
The Happenstance, 1A Ludgate Hill, London, EC4M 7AA
0845 468 0104;
thehappenstancebar.co.uk
PALOMA FAITH'S 'HACKNEY HURRICANE' COCKTAIL
BBQ IDEAS: SPICY LAMB AND FETA MINI-BURGERS
PUB REVIEW: THE ELGIN, LONDON