TV presenter, chef and recipe book author
James Martin
is on a mission to banish our fear of carbs and get us all scoffing a few more great British potatoes. From simple spud recipes to balanced meal advice, we got all the goss from James and a few more titbits about his favourite dinner party tricks and kitchen essentials.
Have a read of our exclusive interview below...
What are your all time favourite potato recipes?
A classic baked potato and butter is one of my favourites. Yesterday I was making gnocchi by scooping out the inside of a baked potato and mixing that with flour, egg yolk with parmesan cheese. It's lovely, easy to make and very affordable. I ended up pan-frying the fresh gnocchi with some sausage meat, a dash of cream, a handful of capers, some lemon and a few breadcrumbs. I think per portion the dish worked out at just under £1 - it's brilliant. You can turn the soft inside of baked spuds into tasty fish cakes too.
JAMES MARTIN'S ROAST SALMON WITH SWEET CHILLI RECIPE
What's your idea of a balanced diet?
There's loads of stuff in the media about people eating too many carbs, too much salt, too much this, too much that, but a diet is all about having a balance. For me the perfect balanced meal is a portion of fish or meat, especially oily fish like mackerel, haddock or salmon, mixed with potatoes and salad or vegetables. A balanced meal doesn't have to be a perfectly proportioned plate - it's all about what you eat over the course of the week.
What's your advice for people who say they don't have time to cook?
I made some soup recently quicker than a guy could open a can and heat it up! A mixture of frozen peas and pre-cooked baby potatoes with some herbs and salt and pepper is delicious. There are excuses for everything nowadays, but if you want to eat well you have to make an effort. Food just doesn't suddenly arrive on your table!
JAMES MARTIN'S POTATO, PEA AND WATERCRESS SOUP RECIPE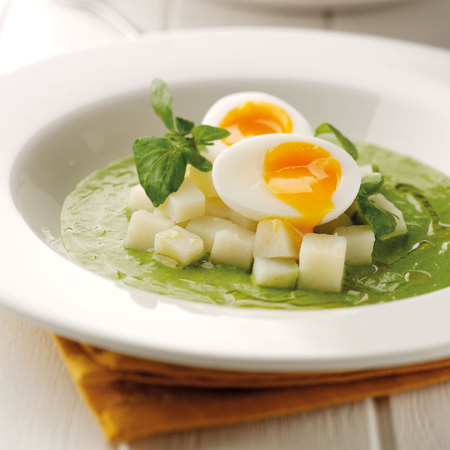 What are the essentials that all home cooks need in their kitchen?
Butter, salt and spuds. There's a lot written about salt and how we're all consuming too much of it, but the real problem is how it's hidden in foods, drinks, packet foods and ready meals. But salt is crucial in cooking for flavour. In terms of equipment, the only things you need are a great pan, a chopping board and a sharp knife. People try and reinvent the wheel with all these fancy gadgets, but all you need are the basics and time. You can microwave a meal in five minutes, but if you create it yourself you will enjoy it far more.
What are your favourite meals?
I think if you ask any chef what their favourite recipe is they will always say roast chicken with all the trimmings. It's a typical British classic and makes the house smell amazing. At the moment I'm really enjoying earthy and wholesome Peruvian food, which is just starting to make it's way to UK kitchens. It's definitely a cuisine to watch.
JAMES MARTIN'S PORK CHOP WITH WALNUTS AND SPRING GREENS RECIPE
What are your suggestions for a quick and impressive dinner party menu?
If you've got real foodies coming round you can't beat steak and chips with Béarnaise sauce - it's the food of the gods! Smoked salmon fish cakes make a great starter with a little side salad and for pudding I would chose a traditional fruit crumble or a strawberry Eton mess. If you've got a slow cooker a great chicken chasseur is guaranteed to impress. It's classically French with mushrooms, tomatoes, onions, tarragon and it's always served properly with buttery mash potatoes. It takes about 45 minutes if you just want to make it there and then.
For more great recipes, nutrition advice and expert tips from James, visit
manyfacesofpotatoes.co.uk
.
What do you think?
MARY BERRY AND PAUL HOLLYWOOD STRIP OFF
KELLY BROOK DOES 3 DAY LIVER FLUSH
KELLY BROOK'S HEALTHY WALNUT AND OLIVE SALAD
THIS IS A $750 CUPCAKE.