You know the drill - White wine with fish, red wine with beef, rosé with absolutely everything... (What? We just love rosé). It seems that we wine-match without even thinking about it. But what about beer? Did you know that the wheaty-stuff can also be matched with food to bring out the subtle flavours of the dish?
Now we're not talking about a pint of Cobra alongside your curry. We're talking about the pale ales, the porter and the stouts that go with beef, cheese and even chocolate. But where to start?
We spoke to Stephen Beaumont - a leading beer expert and one of the authors of
Pocket Beer Book 2014
, who gave us his top beer-matches.
"Over the past two centuries, beer has been largely confined to the role of social elixir, what you go out for "a couple of" with colleagues after work or enjoy with friends on a Friday or Saturday night," says Stephen.
"However, with the emergence of craft breweries and their vast array of beer styles, beer has rediscovered its place at the table. And with the remarkable diversity of aromas and flavours currently being brewed, it's no wonder."
Take a look at some easy beer and food pairings that aren't confined to the pub...
1. Breakfast in bed
Stephen says: "'Waiting until the sun is over the yard arm' before having a drink is a popular aphorism in parts of the world, but hardly a universal truth. And beer with breakfast comes with certain gastronomic benefits."
Bagels and cream cheese:
Try a not too-hoppy pale ale.
Croissants:
You'll likely be having this with an espresso or cafe au lait, but try a chocolatey porter for something different.
Full English:
With so much on the plate, best keep the beer light. A golden bitter will do the trick.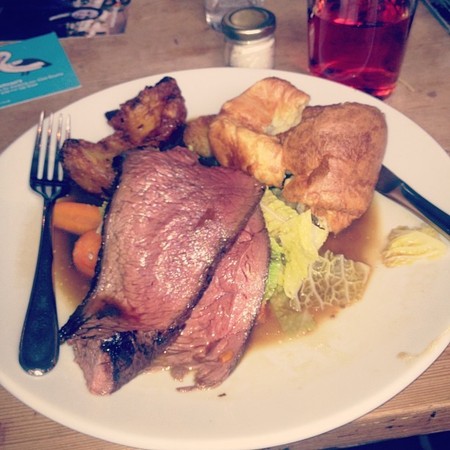 2. The Sunday Roast
"Red meat allows you to bring out the big guns of beer," says Stephen. "I'm talking about abbey-style ales, double IPAs, barley wines and such. Poultry on the other hand, allows for great leeway from lagers and lambics all the way to brown ales and porters."
Roast beef:
The browner the meat, the browner the ale. Try a nutty brown ale for medium and head towards porter for more well-done beef.
Roast lamb
: Rare to medium-rare lamb is wonderful with a rich, malty and winey brew. Try an old ale, British-style barley wine or strong porter or brown ale.
Roast pork:
An earthy dark German lager (known as a 'dunkel' or 'bock') would work.
3. Pudding
"Beer shines when it comes to dessert, especially when chocolate is involved," says Stephen. "It is wise in most cases to choose a beer that is at least as sweet as the dish, if not sweeter, to avoid the beer's flavour being trampled by the dessert's sugar."
Apple pie:
An apple-flavoured allspice or cinnamon-spiced strong ale
Cheesecake:
For a fruit-topped cake, pick a beer flavoured with the same or a complementary fruit. For a liqueru-flavoured or caramel cheesecake, opt for a malty, barley wine or more youthful old ale.
Chocolate:
Pair flourless chocolate cake with Imperial stout; chocolate pudding with Doppelbock (a strong and dark German lager); nutty chocolate with sweet porter.
Take a peek at some of our favourite comfort foods in the gallery below...
4. Cheese
"Wine and cheese may get all the press, but beer and cheese is a more natural and harmonious pairing, as even many sommeliers now admit," says Stephen.
Cheddar:
Best bitter or UK-style pale ale, or dry porter or stout.
Goats' cheese:
Some hoppier versions of kolsch, biere de garde, or saison fare well, but best is a traditional Belgian oude (old) gueuze lambic.
Blue cheese:
Sweet stouts, strong malty abbey-style dubbels go well with cambozola and cashel blue, while a stiton matches nicely with a UK-style barley wine.
Pocket Beer Book 2014
by Stephen Beaumont and Tim Webb, published by Mitchell Beazley, £12.99,
here
.
What do you think?
THE TOP 5 COLD WEATHER SUPERFOODS
THE TOP 7 SUMMER TO WINTER 'TRANSITION' FOODS
CHERYL COLE TALKS JUNK FOOD
KATE MIDDLETON STOPS OFF AT MCDONALD'S