The
Fifty Shades of Grey movie
has already been overkilled a bit, not least by the never ending stream of merchandise.
Some of this is official, some of it's not - but who cares, it's mostly shockingly bad and is starting to feel like they are taking advantage of our good willed love of
spanking erotica?
How very dare they.
You read that correctly
BDSM fans
, this is Christian Grey bear, complete with little tiny handcuffs, eye mask and silver tie.
"Surprise the one you can't get enough of with this irresistible Bear made with smoky fur and smoldering blue eyes," explains the
Vermont teddy bear company.
"He's more than 50 shades of fun." For the CEO price of $89.99, he bloody better be.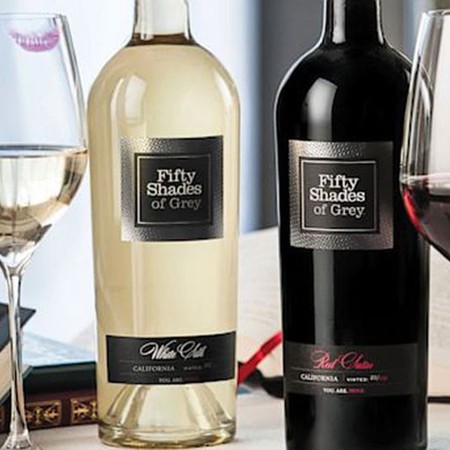 Official merch time.
EL James got together with a wine company
to produce the 'white silk' and 'red satin' wines.
"Wine plays an important role in 'Fifty Shades of Grey," explains the author. "I've always had a penchant for good wine, so [it combines] two of my passions," the third being
making money of course.
Available now for $17.99 a bottle at
fiftyshadeswine.com
Fifty Shades of Grey lingerie: Part 1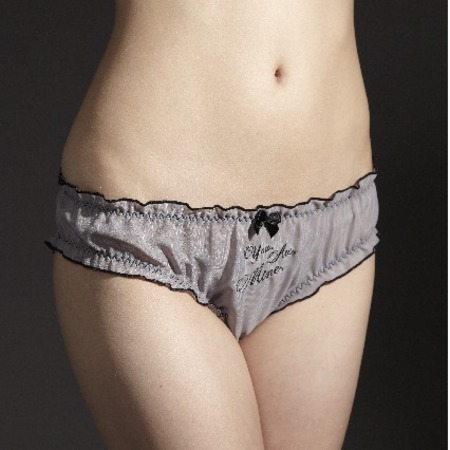 You've read the books, now wear the pants. The first (yes there is more than one)
collection of official Fifty Shades lingerie
included basic knickers with the embroidered lines, 'Later's Baby' and 'You. Are. Mine.'
Fifty Shades of Grey baby changing mat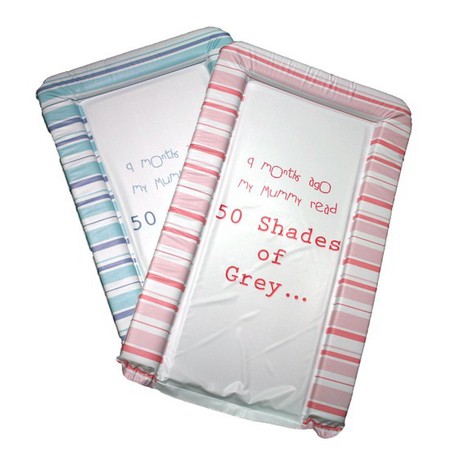 How to mentally scar your children in one easy step.
Available for £7.99 at
babymattressesonline.co.uk
Fifty Shades of Grey sex toys
The sex toy merch
was initially released way back in 2012 and sold out in 24 hours. The first item to go was the silver 'love balls' - a favourite toy of
Christian and Ana's.
Fifty Shades of Grey bath and massage oils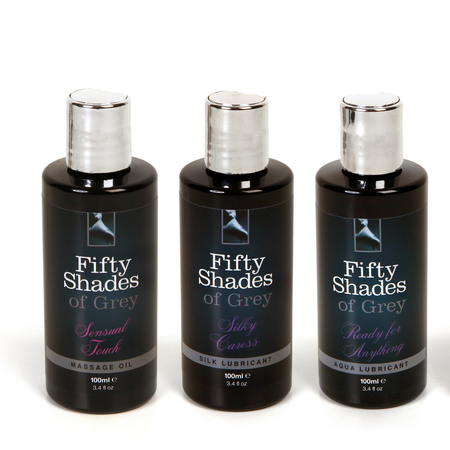 Sticking with the sexy-time theme,
a nine product collection of bath and massage oils
intended to encapsulate the sexual chemistry of Christian and Ana went on sale, which are 'infused with Christian Grey's 'signature scent' with notes of bergamot, sandalwood and musk.'
Fifty Shade of Grey lingerie: Part 2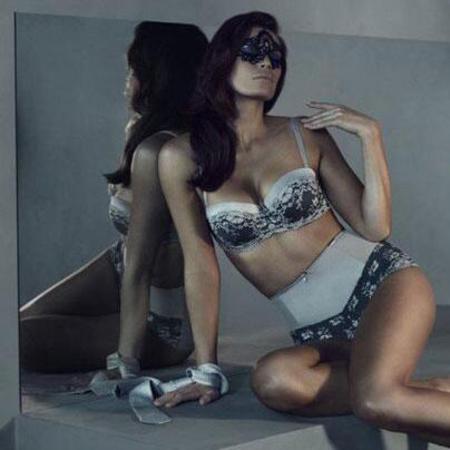 EL James teamed up with Swedish brand KappAhl for an
affordable collection of lingerie
, including a silver tie and key necklace, that 'exudes style and sensuality.'
Are you over Fifty Shades of Grey?
No, never, I can't wait for the film and I love Christian Grey. LOVE HIM.
33.91%
Yeah, I loved the books - but I'm bored now.
21.74%
So over it I was never under it. Or something. Whatever, it's lame.
44.35%
BAD NEWS FROM THE FIFTY SHADES OF GREY SET FOR SEX FANS
THE GIRLS CLUTCH BAG HAS ARRIVED
MORE FILM NEWS