He's the king of
molecular gastronomy
, but he's also a
Christmas
fanatic, which means
Heston Blumenthal
has got loads of festive
cooking tips
up his sleeve. We caught up with the man himself to talk about
roast potatoes
, great sherry, dry ice and his range of
Sage kitchen appliances
.
What's on The Fat Duck's Christmas menu? Is it as extravagant as we're imagining?
We've made a liquid nitrogen poached
bucks fizz
cocktail, a Christmas-spiced plum porridge, scallops in almond milk and a great pork dish that's a play on pigs in blankets. It's a baby pork rack wrapped in lardo (a type of cured pork back fat) with a coconut purée. I know it sounds crazy, but the two flavours really work.
How can we make our Christmas dinner a little more exciting this year?
If you really wanted to push the boat out, go and buy some dry ice. You'll get in in a polystyrene container, but whatever you do don't pick it up with your hands! Stick on some gardening gloves and put a couple of spoonfuls in a tea towel. Smack the lot with a rolling pin until it's a very fine powder and add it to a mixer on a low to medium speed.
Add your favourite chocolate sauce, custard or smoothie and you'll have instant
ice-cream
or a sorbet in two minutes and the vapour looks really impressive. It's brilliant for a party vibe and kids love it.
We always struggle to get everything ready at the right time on Christmas Day, what's your advice?
Cook all your
green vegetables
, carrots and cauliflower in advance. As soon as they're cooked and drained, blast them with cold water to stop the cooking process. Put everything in a pan with some butter, salt and pepper and have it on the side to be reheated ten minutes before you're ready to serve.
If you're having
turkey
take it out the oven and let it rest for at least an hour. You'll be surprised about how much heat it retains. While it's resting put your part-boiled potatoes in the oven, because once they're ready your dinner needs to be ready. Roast potatoes are the centre of attention and won't wait for anything!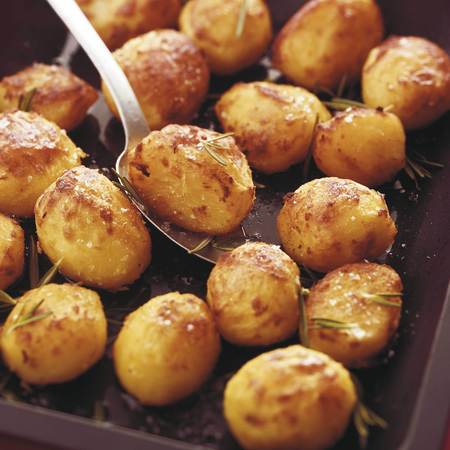 What's your ultimate Christmas tipple?
With a traditional
smoked salmon
started I'd have a class of crisp white wine. I also like a great sherry on Christmas day too. You always think of your nan drinking sherry from one of those awful little glasses, but a good sherry like an Olorosos, Manzanilla or an Amontillado is the best festive drink I can think of.
Up until about two years ago I hardly ever had a drink and my knowledge of
cocktails
started and ended with
gin and tonics
, but now I like a bitter Negroni. It's made of sweet vermouth, Campari and gin, garnished with a slice of orange.
You've got some new Sage appliances coming out next year...do you have a favourite?
The
tea maker
is the one I use every single day without fail. If you normally drink PG Tips all you need to do is pour boiling water over the bag, but if you like to drink loose leaf tea the Sage appliance means it's not a hassle to make.
Will you be splashing out on some
kitchen tech
? Take a look at some of Heston's best Sage appliances in the gallery below...
HESTON BLUMENTHAL'S CHRISTMAS FANTASY FEAST
MILLIE MACKINTOSH SHARES HER FAVE COOK BOOKS
MORE FOOD NEWS