Primo London steak chain
The Hawksmoor
is renowned for it's gin cocktails and beautiful cooked slabs of Longhorn beef.
However their branch in Guildhall has turned it's attention to breakfast in the week, where in the morning light this dark wood, exposed brick and iron work restaurant becomes a haven for a relaxed morning munch.
Why go?
The key component to any hearty breakfast is massively good hunks of meat (sorry veggies - we'll exclude your from this).
And if there's one thing Hawksmoor does well, it's meat. Lots of meat. But it's not just steak they know as for breakfast the plum pudding pig takes centre stage - perfect for excellent bacon, sausages and ham.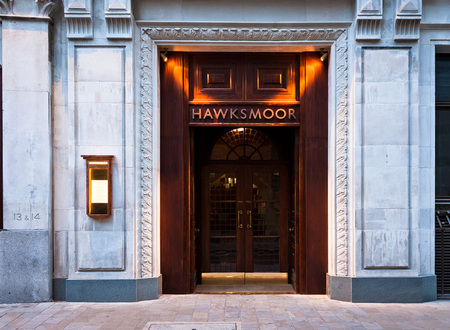 Eat
Try the sausage and egg Hkmuffin - a posh version of the maccy d's classic.
Also not for the faint hearted, indulge in the Hawksmoor breakfast for two which includes bacon chops, sausages, trotter baked beans, bubble and squeak, black pudding and grilled bone marrow.
The eggs benedict is also a good option and comes with thick slabs of gammon and a rich hollandaise.
We recommend wearing stretchy pants.
Drink
They do good strong coffee and you can even order it by Chemex filter.
Of course if you don't have to go to work, a Bloody Mary wouldn't go a miss or try one of their 'Anti-Fogmatic' morning cocktails, including Shaky Pete's Ginger Brew made with gin, ginger and London Pride ale.
Don't miss
Adding a good dollop of their homemade tomato ketchup to whatever your order.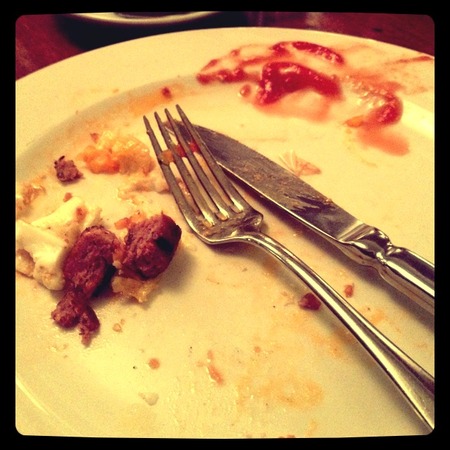 Low down
The Hawksmoor Guildhall
, 10 Basinghall Street, London, EC2V 5BQ, Tel: 020 7397 8120
If you can't make it London for breakfast, they also have a pretty crackin'
cookbook
covering everything you'd ever need to know about steak and recipes including breakfast, cocktails and an awesome mac 'n' cheese that's not to be missed.