Now we like
Game of Thrones
as much as the next wildling but some enthusiasts are taking their obsession to the bedroom. No, we're not talking about imagining yourself in a cave
with Jon Snow
, this is the dark world of dragon dildos.
The Daily Dot
has brought to our attention a company called Bad Dragon that produces dragon sex toys...as in dildos shaped like a dragon's appendage.
They come in different shapes, sizes and colours and are completely customisable.
Some even have 'Cumlube'...as it sounds, they squirt white imitation semen. But surely dragon sperm is green? Obviously we have questions.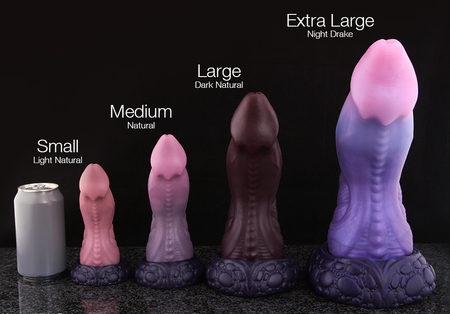 "Instead of marketing specifically to men or women, we focus on the common factor between them all: people who really like fantasy characters, and who want to
make their fantasies real,
" one of Bad Dragon's co-founders Varka explained.
"We see a lot of variety in the kinds of customers that buy and use our toys, and easily as much variation in how people choose to use them."
Can we have an example? "We hear people like to hit each other with the dragon dildos," clarifies Varka. But of course.
If dragon's aren't your thing, they also have a wolf's penis and one that looks like an octopus tentacle, complete with ridged sucker pads.
As the Daily Dot points out, 'The Internet is dark, and full of sex toys.' Indeed.
Thoughts? Comment below or tweet us
@handbagcom
KIT HARINGTON IN A SUIT, JUST FOR YOU
BUY IT ON YOUR BREAK: DREW BARRYMORE'S MOTHER OF DRAGONS TEE
MORE LIFE NEWS