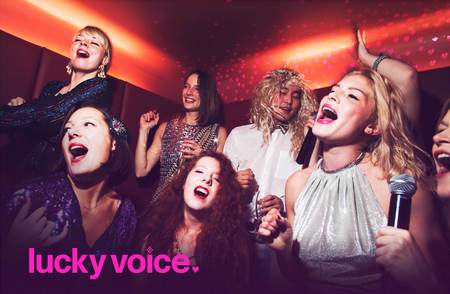 If your office has left organising their Christmas party to the last minute, earn yourself a hero badge by sorting out a karaoke booth spectacular.
If you've not ventured to
Lucky Voice
before, where have you been?!
The karaoke supremo has bars across the country where you can sing your heart out, whilst drinking and wearing a silly wig.
Nothing impresses a boss more than a roaring rendition of Belinda Carlisle or
Rihanna
. Nothing.
Choose from thousands of songs and a whole host of accessorises from hats, inflatable guitars and tambourines.
Push the magic 'thirsty' button in your private booth and a waitress will arrive for you to order pizzas, cocktails or drinks from their full bar menu (we'd like one of these at Handbag HQ please!)
However if your colleagues don't fancy venturing too far from the office (and the potential for butt-photocopying shenanigans) – you can even have all the equipment dropped off at your work.
Join in with the chorus, 'I'm loving angels instead. And through it allllllllllllllllll…..'
To find out more about bookings visit,
luckyvoice.com
CHRISTMAS PARTY STOP-OUTS ON THE RISE
TOP TIPS FOR CHRISTMAS ENTERTAINING
CHARACTERS YOU'LL SPOT AT EVERY OFFICE PARTY