Travelling on the
Orient Express
has to be on most people's bucket list, so what better way to treat your loved one this Valentine's Day than with the meal of a lifetime.
The glamorous transport of a by-gone era epitomises style and romance. The stunning vintage train setting, cut crystal champagne flutes and slumping in high wing back chairs all make it a bit posher than a dinner down Nando's.
Why go?
If you want to spoil someone, they will love the theatre of the Orient Express.
Your boarding cards come in an embossed leather travel wallet and you arrive early at the station for a glass of bubbly in the exclusive lounge. Everyone is dressed to the nines, waiting for the old fashioned train to chug into view.
All decked out with shinning brass, big draped windows, and polished mahogany, all you need is
Leonardo DiCaprio
to hop aboard and you'll swear you're in the
Great Gatsby
.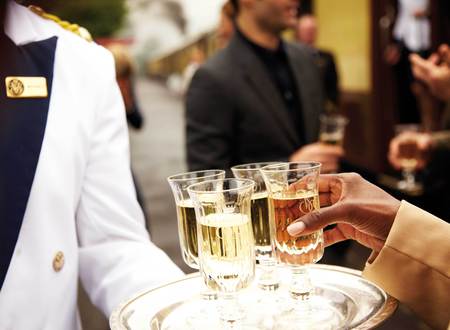 The meal
The art deco dining experience is framed by white linen table cloths, silverware and big armchairs – perfect for a romantic dinner adventure.
When seated at your table, you will get to gaze out the window as a sumptuous fine dining meal is served, paired with the appropriate (and delicious) wines.
On our trip we were treated to five-course feast including canapés and champagne followed by a duo of fish and a melt-in-the-mouth beef with dauphinoise potatoes. All pretty impressive especially considering it's cooked on a moving train.
Everything is served by impeccably dressed butlers who do those posh things like put your napkin on your lap and call you miss. The sommelier will also explain your wine for each course and be back to top it up whenever you're looking a little thirsty.
All in all, you can guarantee to go home with that posh dress feeling a little bit tighter and the heady feeling that comes from a good feed.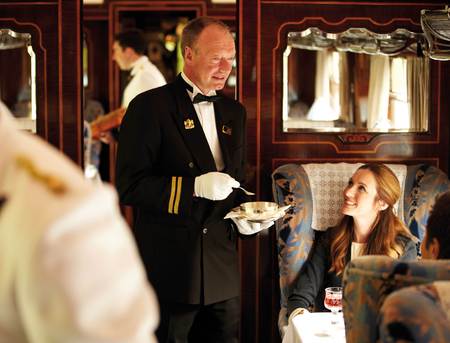 Valentine's Day on the Orient Express
For Valentine's Day, you can book aboard the British Pullman leaving from London for a romantic lunch or dinner package. It's sister train the Northern Belle will be offering a romantic lunch leaving from Leeds and York, or an evening soiree from Manchester.
Along with everything you would expect from an Orient Express experience, to make Valentine's extra special – there will be a beautiful bouquet of flowers and chocolates per couple, musicians and the train managers are happy to help set up that Valentine's Day proposal. Wink wink boys.
Prices for Valentine's Day journeys aboard the British Pullman and Northern Belle start from £250.00 per person,
orient-express.com
What do you think? Leave a comment below to
be in with a chance of winning a £100 goodie bag
6 PLACES TO GET A GOOD BURGER
TRY THE MR SELFRIDGE RECOMMENDS MENU IN SELFRIDGES
CELEBRITY POSTCARDS: MIRANDA KERR IN MEXICO