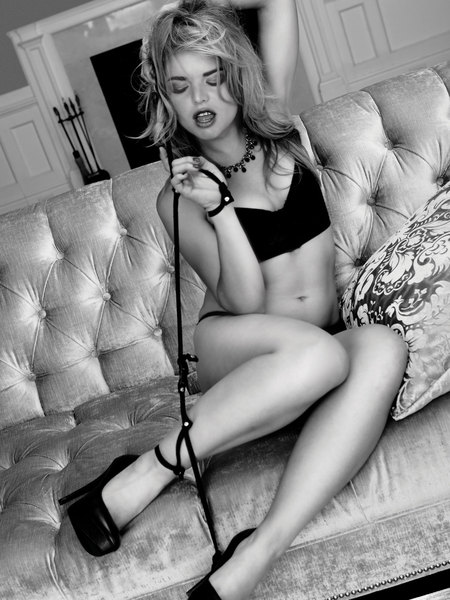 It's official – bondage has been thrust into the mainstream thanks to the success of
Fifty Shades of Grey
, but what are the 'rules' if you want to give it a go at home?
Whether you're interested in heat of the moment handcuffs or full-on floggers here are a few beginners tips from erotic emporium,
Ann Summers
...
Safety first
Establish a safeword first; something easily remembered and unlikely to be said by accident. Make sure you both know it, and understand that play stops completely when it's said.
Know your boundaries
Whatever it is you want to try with your partner, as long as you both agree on the boundaries, anything goes. If, however, you draw the line at being blindfolded or being left alone tied to the bed for an hour, you need to say upfront. He's not a mind reader!
Be prepared
If you're using handcuffs, keep two sets of keys nearby so you can release your partner quickly if need be. When you're in the moment you won't want to have to break the mood by talking about condoms or lube - so get them sorted and in a convenient location before you get into 'character'.
Get creative
Take a creative, DIY approach to bondage by experimenting with materials, outfits and accessories. Clingfilm can be used to wrap around your lover's wrists, and if you use a single layer, it's easy enough to snap. Stockings and ties are also great options, while spanking paddles can be customised from kitchen utensils. Stay safe and have fun.
Be sober
Although it's often more tempting to play sex games when you're feeling a bit tipsy, it's best not to try bondage when you're under the influence of alcohol. You might misjudge how tightly to tie the knots and end up hurting each other, or get a bit too carried away with ball gags and blindfolds!
Have you tried recreating Ana and Christian's unusual romance?
Leave a comment below to
be in with a chance of winning a £100 goodie bag
.
HOW SHOES CAN IMPROVE YOUR SEX LIFE
DETOX YOUR LOVE LIFE IN 6 WEEKS
UNHAPPY WITH YOUR SEX LIFE? BLAME YOUR FIRST TIME