If you want be down on the coffee scene, you need to start making your morning brew with this non-electrical glass coffeemaker.
Not only pleasing to look at, the Chemex makes a delicious cup of coffee. It's design allows for optimum flavour extraction and it stops any outside nasties affecting the taste as the coffee only touches the filter and the glass.
A simple hourglass shape vessel with a smart little wooden collar and tie, this brewing method has been around since the 1940s and has featured in several design exhibitions.
So how does it work?
A non electrical appliance, you need to boil your water first.
Pop one of the unbleached, square filters in the top. The filters are slightly thicker than the traditional ones so that they collect even the finest sediment particles and allow for optimum drip time.
Place your ground coffee in the filter. After the water has boiled, wait a few seconds so it cools to optimum temperature.
Pour enough water over the grounds to just to soak them – don't pour in all the water as you would with a cafetiere. Wait 20-40 seconds.
This wetting process means your coffee will 'bloom' as the carbon dioxide in the beans escapes, allowing for the maximum flavour to be released.
After this little breather, pour on the desired amount of water (but never filling to the top – always leave an inch of room).
The water will now trickle through the filter making you an excellent cup of coffee.
Cool points.
You can buy Chemex from independent coffee shops or direct at
chemexcoffeemaker.com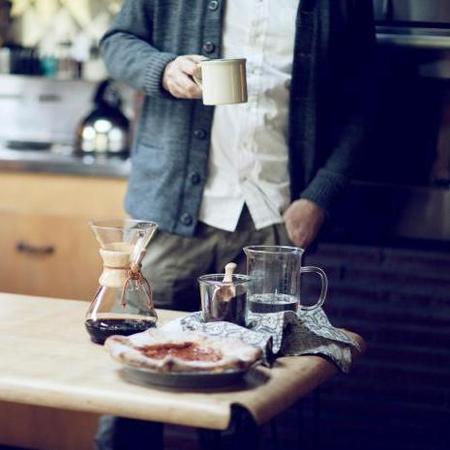 HOW TO MAKE THE PERFECT POT OF COFFEE
5 WAYS TO ADD BOOZE TO YOUR COFFEE
LIFE SKILLS: HOW TO MAKE YOUR OWN GIN