We caught up with X Factor judge, singer and all-round goddess Nicole Scherzinger to talk about her obsession with Sunday roast dinners, her favourite health foods and her quirky table manners...
So, you're the new face of Müller Corner de Luxe – so are we to take it you're a sweet or savoury girl then?
"I'm both, but I'm more of a sweet girl. I love my sweets and I love to indulge in desserts."
If you were to throw a dinner party who would you invite and what would you cook?
"Will Ferrell and maybe Jack Black, but I'm not sure you could put both of them in the same room! I would invite anyone who loves food like me. Everyone makes fun of me because I really get excited when I see great food. When I eat food I make a lot of noise and my boyfriend (racing driver Lewis Hamilton) says "You make too much noise when you eat your food and your dessert!" so my fantasy dinner guests would be someone who's vocal and enjoys food as much as I do.
I like to cook dishes I know I'm really good at making because if I'm going to serve it up it's got to be delicious. I like to try new things, but I take my time and it takes me all day to cook. For dinner guests I would make an Asian chicken and vegetable dish that my whole family love to make or I would make lasagne. For dessert I would give my guests a Müller Corner de Luxe each because I wouldn't have to cook it! I would just put it in a bowl because it's delicious.would make a Kentucky Derby Bourbon Pie (a staple from Nicole's southern routes) or banana bread."
Are there any health foods that you swear by?
"I'm really in to kale right now, not just because it's healthy but because I like the taste and the texture. I've also been eating a lot of prosciutto pizza and then to make myself feel better I put a rocket salad on top, so I get two in one. I believe in the 'everything in moderation' rule."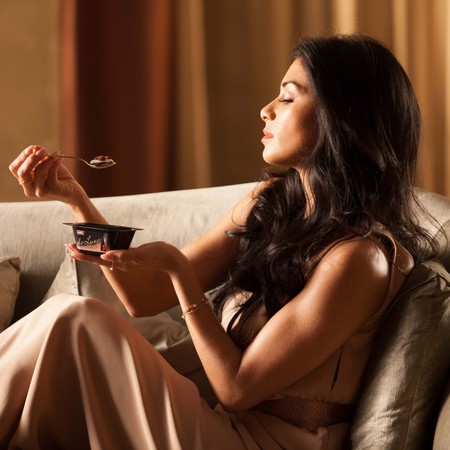 Are you drinking green juices like Rosie H-W and Miranda Kerr?
"No, they're not healthy for you because they often contain a lot of sugar. My favourite drink is an all-natural vegetable smoothie with beet, carrot, apple, ginger and lemon. It's important to avoid artificial sugar or just have a drink of water instead."
What's your favourite British food?
"It definitely wouldn't be pork scratchings! I'm all about the
chicken roast dinner
on a Sunday, I live for that, it just reminds me of growing up in the South – just good home cooking."
Would we find you in a swanky cocktail bar, a local pub or a juice bar?
"It all depends on how I'm feeling because all of the above sound good to me. I would probably start in the juice bar in the morning... I don't want to say I would go to a pub in the afternoon! People would think, 'what is she doing?' I don't go out too often, but a brilliant meal really does it for me. I love breaking bread with my family and friends or celebrating with a big Italian, sushi or Mexican meal. It's like a big party! We had fun at STK (336-337 The Strand, London) recently which is like going to a fancy dinner and a club all in one."
What are your secret hangover cures?
"A wellness shot, it's got a lot of raw juices, cayenne pepper and lemon juice in it. It's really good for detoxing. Cheetos and Dorritos are also perfect for curing a hangover. Chips and crisps!"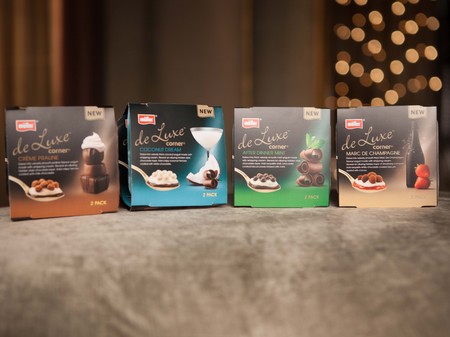 Müller Corner de Luxe come in four tasty flavours; After Dinner Mint, Coconut Dream, Crème Praline and Marc De Champagne. Expect yoghurt made with whipping cream and layered with dark chocolate or fruit...yummy! RRP £1.69.
What do you think of Nicole's latest gig?
RIHANNA UNVEILS CHOCOLATE CAKE FOR HER BFF'S BIRTHDAY
RITA ORA & KIM KARDASHIAN EAT MCDONALD'S BREAKFASTS
KELLY BROOK SWAPS GREEN JUICE FOR CUPCAKE & PASTRIES