Jessica Alba
may be a Hollywood celeb, but she's not above hanging out at a fish market and trying some local food.
The actress tweeted pics of her going on a culinary adventure and exploring the Noryangjin fish market in Seoul, before sitting down to sample the wares.
Drinking beers with friends including make-up artist Lauren Andersen, Alba tweeted,
Getting our grub on #noranjifishmarket #seoul instagram.com/p/Y00b3cMun2/

— Jessica Alba (@jessicaalba) May 2, 2013
Noryangjin is Korea's largest wholesale fish market and was established in 1927. It serves 30,000 daily customers and supplies 40% of Seoul's seafood.
The
Sin City
actress also posted pics of some 'steamed clams, stir fried scallops, steamed lobster & crab' along with some spicy octopus, tagging it '#seoulfoodierealness'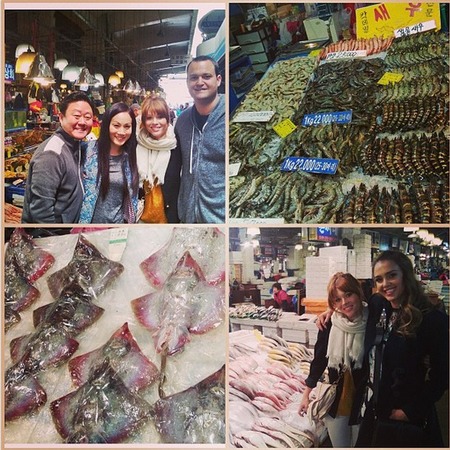 In her other role as founder of the Honest company, Alba was in South Korea to speak at the Seoul Digital Forum about 'Widening access to healthy living with honest products and a dream.'
Alba recently slammed Gwyneth Paltrow over
not being as 'grounded' as her
after the pair went head-to-head with rival wholesome living books.
She may have a point. We can't quite see Gwynnie doing this...
JESSICA ALBA'S 'BRUTAL' WEIGHT LOSS SECRET
5 WAYS TO BEAT THE BLOAT AND GET A FLATTER STOMACH
JESSICA ALBA'S NEW BOOK IS A BEST SELLER