Pregnant
Kate Middleton
satisfied her hankering for spicy food with an Indian curry cooked by local shopkeepers in her hometown.
The Duchess of Cambridge, who is around seven months pregnant, enjoyed a homemade vegetable curry made by Chan Shingadia and her husband Hash, who run the local Spar shop in Upper Bucklebury, Berkshire.
'She likes my wife's cooking,' 53-year-old Hash told
The Sun
. 'We cook for her mum and family.'
Expectant Kate picked up the dish from the Berkshire village shop when she headed home to visit her parents at the end of April.
'My wife made her curry a little while ago which she enjoyed,' Hash said. 'I think she came in one day and my wife was cooking upstairs. She said it smelled lovely, so my wife gave her some to take away.'
The couple didn't want to reveal exactly what Kate picked up, but it was meat free as, 'I'm vegetarian - I only cook vegetarian curry,' explained Chan.
So what else has Kate been eating we hear you cry?
French bread, ham, salami, cream and eggs according to the shop owners, who were among the select group of villagers invited to Kate and Prince William's wedding.
Well new-mum Kate will be able to get her fill of the dish after she gives birth, as it is thought she will move back in with her parents for about six weeks, bucking the royal tradition of having a maternity nurse.
All this talk of takeaway has made us crave a curry too. Fortunately we have a lovely Indian recipe collection to hand. Huzzah!
HOT & SPICY INDIAN RECIPE COLLECTION...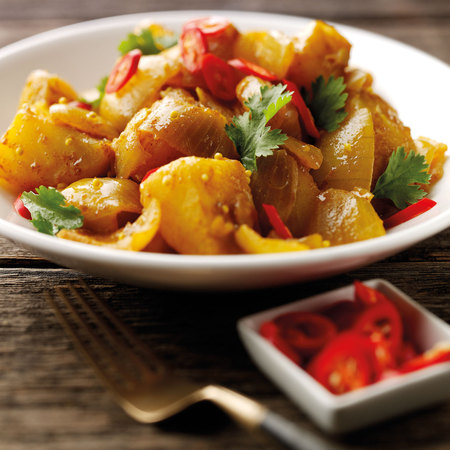 KATE MIDDLETON'S DUE DATE REVEALED?
KATE MIDDLETON REWORKS TOPSHOP DRESS FOR FRIEND'S WEDDING
£2,230-A-NIGHT HOTEL SUITE FOR KATE MIDDLETON'S ROYAL BABY