Robin Thicke
's
Blurred Lines
has been causing quite a stink around the world for both it's creepy lyrics and accompanying stark naked pop video.
The song has become number one in basically every country around the globe and the fastest selling single of the year, which must be a welcome relief for Thicke as his last album,
Love After War
, didn't do so good.
As he told AAP in Sydney when talking about his forthcoming album of the same name, 'I actually wanted someone to buy it this time.' Enter the oldest publicity trick in the book.
There's no denying it, the song is catchy - but here enters the problem, we cringe at liking it.
Let's not beat around the
naked bush
– the lyrics are rapey and this video
is
sexist.
'Well, sexist? They [the media] need to come up with something more original than that. To me, if my videos are sexist, then so are the paintings at the Louvre,' the singer protested to
Digital Spy.
Right. But calling it sexist isn't about original journalism – the video just is sexist. Like a chair is just a chair, regardless of how many times people have previously called it a chair.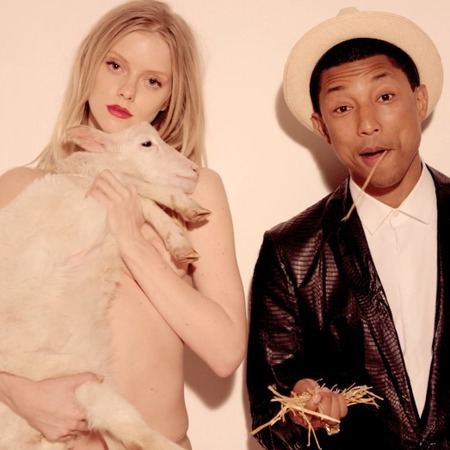 Lyrics like, 'I know you want it, But you're a good girl,' have
understandably angered people
. However the song might have survived with just the raised eyebrows, if it wasn't for the accompanying video.
To top off his sensational sundae, the blue-eyed singer parades in a studio while three models,
Emily Ratajkowski
, Jessi M'Bengue, and Elle Evans, wear nothing but shoes and thongs and dance around the men, who are all fully clothed in suits in a blatant display of hierarchy.
It was just so unnecessary that it left us screaming 'Why Robin? Why?' at our screens.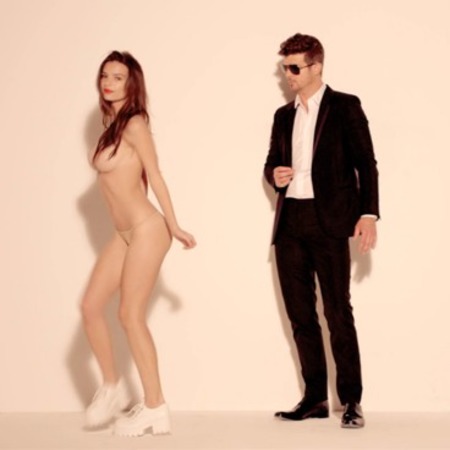 The video was
banned on YouTube
within 48 hours, but it had received over one million hits for each day that it was live (if you missed it, you can watch it at the bottom).
To say the
video is sexist
is so face to palm slappingly clear - we're almost embarrassed to be writing the bleedin' obvious. Men are superior to women, ladies are only there to be looked at, to have their hair brushed in a weird controlling way, not to mention the
obvious rapey connotations of the lyrics
- but it is so obscenely in your face, that the whole thing becomes almost desexualised.
'Who doesn't like looking at boobs?,' the singer told
AAP in Sydney
.
'We've been sculpting and painting women's naked bodies since the beginning of time. It's in every museum you go to, so my video is no different.'
But the women on all fours with objects on their backs, the farm animals, the fact that the women only make animal noises, the stop sign on the model's naked bum, again with the hair brushing?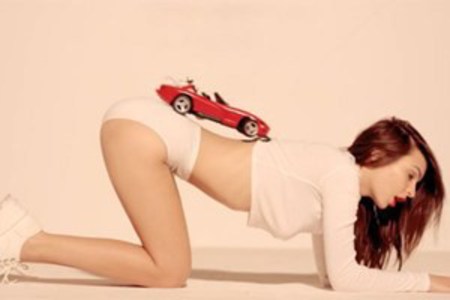 'I just wanted to make a funny video like Benny Hill or something like that. The video director said, 'What if all the girls are naked?' I said, 'That could be pretty funny, that can be like Benny Hill type stuff,' he told Digital Spy.
'I just wanted to break all the rules and do everything you're not supposed to do,' he added.
But can 'breaking the rules' and a strange love of Benny Hill be seen as a plausible defence for the messages that come loudly blaring out of this video? No, sorry, we don't think it can.
We can deal with being called unoriginal Robin, if you can deal with being called sexist.
What do you think?
Tell us your thoughts below...
IS PAMELA ANDERSON'S ADVERT SEXIST?
COULD THIS BE THE END OF PAGE 3?
8 HOLLYWOOD FILMS ACCUSED OF 'SEXISM'