Surfing brand
Roxy
has come under fire for it's racy teaser advert which focuses on a pro surfers body instead of her achievements as a five-time world champion.
The promo advert for Pro Biarritz 2013 surfing meet shows a faceless blonde woman semi naked in bed, in the shower, shots of her boobs as she waxes her board and her bum being lapped by the sea as she paddles out.
The faceless woman is actually five-time world champion surfer Stephanie Gilmore – however Roxy intended to keep the identity of the mystery blonde a surprise in order to keep up curiosity for a follow up ad and to highlight Gilmore's controversial switch from Rip Curl to Roxy. Instead, it just made people really mad.
As this is an advert for a surfing competition, people were understandably a bit annoyed that it didn't actually show any surfing (someone really should have spotted that at Roxy HQ), but despite Roxy's claim that they see women as 'complex and multi-dimensional,' surf fans were annoyed that the ad just focuses on one dimension, her bum.
One comment on Roxy's Facebook page reads, 'It's hard enough getting coverage for women's sport, and now there is this fantastic opportunity to showcase this competition and the ability of the surfers - and it has been wasted. Sitting on your bed in your undies and sexily undressing for a shower is in no way a 'dimension.''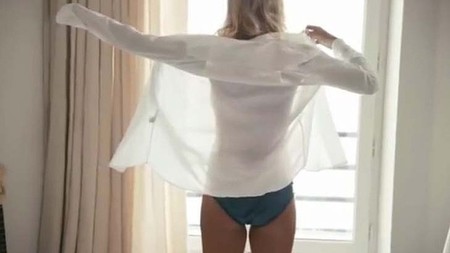 In a statement on their Facebook page, Roxy responded, 'We believe all athletes are naturally beautiful, in and out of the water. You certainly don't have to be sexy to be an athlete, & we also believe it's not wrong to be an athlete and to be sexy, if you choose to be.'
However,
Catharine Lumby
, a Professor of Media at Macquarie University, said the advertisement really belonged 'in the 1970s…It looks like a lingerie ad. The focus is very much on her bottom and legs.'
The media haven't exactly been won over either, with
AdWeek observing
, 'Coming from a company that claims to speak to female athletes, the teaser video pretty much ignored athletics for blatant eye candy.' And as they note, 'it's not like Gilmore would be less attractive or marketable if they actually showed her surfing.'
Meanwhile, Clementine Ford writes for
Australia's Daily Life
, 'It's tempting to write these concerns off as insignificant. Indeed, I anticipate lots of feedback to this article telling me to 'get over it'…No big deal, right? Well, it IS a big deal. Because the most amazing thing female surfers can do has precisely nothing to do [with] giving a hidden audience a boner.'
What do you think? The floor is open...
THE GREAT ROBIN THICKE SEXIST DEBATE
IS PAMELA ANDERSON'S ADVERT SEXIST?
HOLLYWOOD FILMS THAT WERE ACCUSED OF BEING SEXIST...