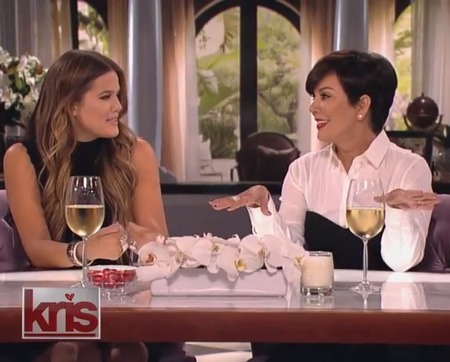 Kris Jenner is pulling out all the stops to boost her new talk show ratings, including playing sex truth game 'I never' with daughter Khloe Kardashian.
Please, someone make it stop.
The head of the Kardashian/Jenner clan played the risqué game with her daughter and co-host as audience members shouted out questions, while her youngest daughters Kendall and Kylie squirmed in the audience.
When asked if they had joined the mile high club, Jenner took a big gulp of white wine and went on to explain, 'We decided intentionally to join the Mile High Club.'
We're not sure how you unintentionally join it – but go on…
'We [Kris and husband Bruce Jenner] thought we were so sneaky…So we come back to our seats and we were like two Cheshire Cats - we thought we got away with something.'
Turns out they hadn't, as American Airlines announced their deed to the other passengers.
She continued, 'The guy picks up the PA and says, 'Thank you for flying with American, ladies and gentleman, and we would just like to give a big congratulations to Kris and Bruce Jenner…for joining the Mile High Club!''
Khloe Kardashian, 29, who is married to Lamar Odom, also did a spot of sharing, confessing that she had
faked orgasms
in the past. 'Like who hasn't? Everyone has faked 'The Big O' at some point. I feel like you're like, 'Oh my God. What have I gotten myself into?' Or like, 'Dude, hurry it up. We've got work in the morning.''
During the game, Kris instructs her highly uncomfortable daughters Kendall, 17, and Kylie, 15, to put on earmuffs so they can't hear.
Please miss can we have some too?
SHINE THE LIGHT ON THIS SAUCY SEX GAME
THE 3 MOST FLATTERING SEX POSITIONS
SEX TOYS FOR YOUR RELATIONSHIP STAGES