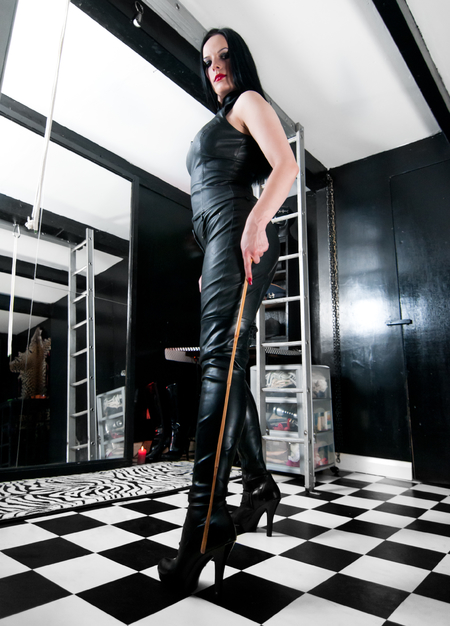 Rebekka Raynor
knows how to get men down on their knees begging for mercy. She's a professional dominatrix and someone who knows just how varied our sexual desires can be. From spanking to public humiliation, Rebekka has been there done that and she's ready to pass one some words of wisdom.
Take a look at our interview with Rebekka below and find out what happens behind closed leather-clad doors...
What do you think is the role of a dominatrix?
As a dominatrix, the role I offer is of fantasy fulfilment. For the most part I am fulfilling my own desires and fantasies during sessions and the slaves (Clients) who visit me share in those particular desires. For some, BDSM is a need rather than a whimsical fancy, a burning itch that must be scratched. For some it is a form of escapism, just like being engrossed in an entertaining film. For others it relives the past and this is probably the most well known of reasons. An example would be being caned at school by an attractive teacher evolving into a desire to be spanked in adulthood.
Do you think the media makes the world of BDSM look different to how it is in real life?
In the majority of films for example, the cliché of a kinky character is that they have a secret longing to have a 'normal' sex life. The vast majority of people I know embrace who they are and what they want, without feeling shameful about it. There's also a misconception that a person involved in BDSM can't have a normal, functional life outside of kink. The people I know work in all sorts of industries - fashion, media, law, the games industry, property, they are excellent mothers, fathers, husbands, wives. The cliché of your sexuality causing conflict in life is merely a lazy way of making a story.
They do get a lot of things right, however, in that the clothing and equipment are normally well researched. Unfortunately a lot of the more complicated clothing, like beautiful corsets and multi-layer outfits can be a nightmare to get into!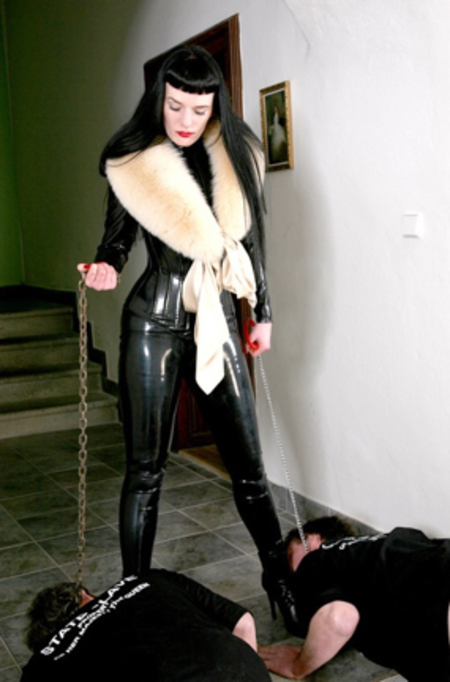 How many different types of domination are there?
There are a fair few angles and styles of domination so I'll use the act of spanking to illustrate. A
nurturing style
could manifest as a fantasy of a peer dishing out a spanking because the spankee has been caught in a misdemeanour. The tone of the spankings is less of a punishment and more about steering their behaviour in the right direction in a loving manner (like giving a bad tasting medicine!).
A common and widely known style is that of the cold, aloof and stern dominatrix who punishes a helpless male only because it brings her pleasure. This is a very popular fantasy among submissive men. Another style is where the focus is on humiliation. During a spanking, a dominatrix may verbalise what the spankee has done to deserve such a punishment and the man may be asked to stand in a humiliating pose (bent over holding his ankles).
Do people have any weird and wonderful requests?
What is weird is entirely subjective, but In my 10 years I have had all sorts of strange requests. I've wrapped someone in bin bags and threw them out the door like they were rubbish, kept (pretend) kidnapped men in a cell for days on end. I've even had men save up weeks worth of ejaculate in the freezer for them to consume at a later date!
I remember one instance where I covered a man in balloons and gradually popped them and I've indulged in public humiliation on London's Oxford St by having a man crawl on all fours behind me. The lists goes on. What fulfils people is quite interesting, so no matter how far fetched or mundane an act may seem to the average person, nothing is actually 'weird'.
Have you ever refused to do something because it's dangerous or too strange for comfort?
I've refused to do a few things because they were dangerous or far too fanatical. A prime example is a man who has a castration fantasy. There are plenty of them, but rarely do any Mistresses even reply to emails regarding it, as it is a complicated surgical procedure and you can hardly do it a second time! Mistresses in the UK (and sometimes between countries) have a strong sense of camaraderie and tend to share information on the most hilarious requests they receive.
One thing I always refuse is a session involving racial play (play acting white supremacy). Although it is of course only play and something which a willing and consenting participant has requested, I am totally uncomfortable with it because it is against my principles.
How can women experiment with domination – where's the best place to start?
If they have a willing partner, then the best place to start is with communication. Sitting down with each other and going through desires and expectations in a rational manner is one of the best ways to ensure that you will both get what you want out of the experience. Do you want to use any equipment? What activities do you want to do? Are there any hard limits (a hard limit is something you absolutely will not do)?
There is no better teacher than experience, so it is best to educate yourself about the kind of play you want and simply start the ball gag rolling! You may want to join some relevant BDSM information forums (KinkLink, Fetlife etc) or go to fetish events to get a feel and understanding of what others do. There are some who teach BDSM techniques privately (such as myself) to show you how to use equipment, such as how to achieve different sensations from a flogger, a whip or a paddle.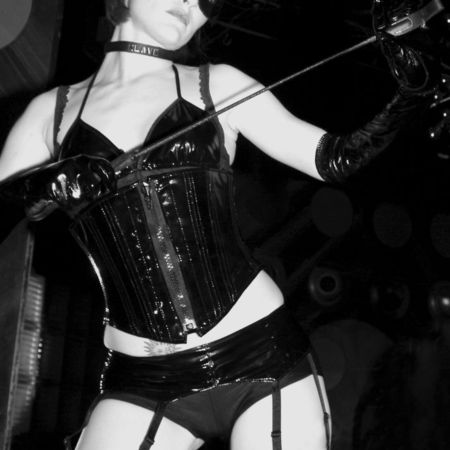 Aside from any health and safety aspects, there is no wrong way to do anything, only the ways that make you happy. I'll be hosting my first women only group event for The Coterie Social Salon in August and guests there will have the opportunity to handle some of my most popular tools, pick up tips to experiment with and ask me questions.
Are there any bedroom props you recommend?
For bedroom props I would highly recommend wrist and leg restraints, which can be attached to the bed frame. There are also under bed restraints - cuffs joined together by a long lead - which can be tucked under the mattress for couples who don't have a bed frame. There are also over door restraints, which sit on the upper part of a door, trapping a cuff in place when it is closed. Using sex toys is another wonderful way to torment an intimate partner, as bringing a partner to the edge of orgasm multiple times in a tease can be a fun torture in itself!
To what extent do you think sex is just about power?
I think that sex can be about anything - pleasure, power, companionship, something to alleviate boredom. You don't have to be the person 'on top' to be the one in control of the situation. It can be about power, in that controlling the other person's pleasure for mutual enjoyment can be a very erotic experience.
As a dominatrix do you ever wish there was more romance in the world? Or do you think old fashioned ideas of romance don't really exist?
In some romantic relationships, there is no better way to say "I love you" than having a personalised slave collar or unique flogger made, with the recipients favourite colours, materials and styles. It is much the same as buying jewellery for a loved one. I have two of what we call "collared" slaves, which means that they have willingly pledged to formally serve me in my non working life.
To prepare to celebrate, I spent rather a long time looking for the perfect collars for them, ones that no one else had. Eventually I had them made bespoke as I felt that having something tailor made meant so much more than choosing one off the rack. Romance is much still alive and kicking, in a delightful mix of old and new styles.
Rebekka Raynor will present 'Inside the World of the Dominatrix' for The Coterie Social Salon in Central London on Wednesday 7 August 2013 at 7:30pm. Visit coteriesocialsalon.com for tickets.
What do you think?
6 SIGNS THAT HE'S CHEATING ON YOU
22 REASONS TO LOVE THE BIG O
THE FACTS ABOUT MULTIPLE ORGASMS