Oh
Ryan Gosling
, sometimes we think we dreamed you up. We've spent the last month staring at your face on the tube poster for you latest movie
Only God Forgives
and we've become convinced you're utterly perfect for us.
We'll admit, it was the loosely-knotted tie and dapper waistcoat that got us first, but since then, we've done our research. After all, we didn't want to find out that you were just some chiselled beefcake with dreamy eyes but a black hole of a personality.
But it turns out you're as good as you look Ry Ry. We should have known.
1. He does charity work
Ryan uses his famous name for good - petitioning on behalf of PETA, the National Milk Producers Federation in the US (he wrote to them in a bid to stop them 'dehorning' cows), and the Enough Project, which is based around ending genocide and crimes against humanity.
2. He's in a band
We already knew he sang - his performance of "You Always Hurt the Ones You Love" in
Blue Valentine
made us wish we were that ukulele - but we had no ideas that Ryan was also one half of the folk-rock band Dead Man's Bones. And they're good! Take a listen (this track features in recent scare-fest film,
The Conjuring
):
3. He's a dog person
George Gosling is Ryan's dog - and he goes everywhere with the star. Ryan has described the animal as "the great love of my life" and has even taken him to interviews and TV appearances. "Can we just talk about George?" he once asked an interviewer. Aww!
4. He's easy on the eye
OK, OK, we're shallow as a puddle, but damn - this boy gives good face. And that body in Crazy, Stupid Love? To quote Emma Stone: "Seriously? It's like you're photoshoped."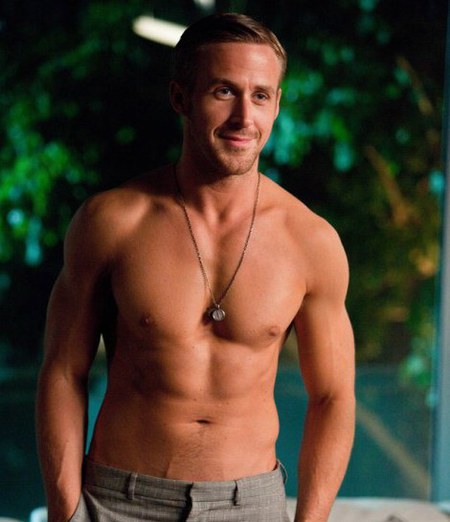 5. He's a feminist
Or at least he's taken the '
Feminist Ryan Gosling
' meme in good humour. We're not sure where the blog came from (It's described by its creator as "Feminist Theory (as Imagined) from Your Favourite Sensitive Movie Dude").
Adding to his feminist credentials, Ryan told an Australian newspaper, he said: "I was literally raised by my mother and my sister. And I just feel like I wouldn't know how to think any other way. My sister was my best friend and my hero growing up. Because I was home-schooled I didn't have a lot of friends and I did ballet, which was always just girls. All of that had an effect on my brain."
6. He's cute as a button
From his vulnerable performance in
Lars and the Real Girl
(Resuscitating a teddy bear? Reading to his doll? Could he be any cuter?) but he's also adorable IRL too. Watch this clip of his junket interview for
Gangster Squad
, and watch Ry get all giggly when confronted with a tea towel printed with three versions of his face.
7. He's good with his hands
Now steady on there, we mean he's good at DIY. For his role in
The Notebook
, he took an apprenticeship with a cabinetmaker and built a kitchen table that was used on set, while for
Drive
he actually restored the car he drives in the movie. Would you let him tinker under your bonnet? We don't even need to hear the answer.
8. He's Regina George - in a good way
You know that scene in
Mean Girls
where everyone's talking about Regina George? ("I hear her hair's insured for $10,000... I hear she does car commercials - in Japan") Well it seems that Ryan is the internet's Regina - everyone's heard something incredible about him.
There's that video footage of him walking into the middle of two people squabbling in the street in an attempt to break the fight, plus those tweets from a British journalist who says he grabbed her when she stepped out into the street to stop her getting run over by a car. Swoon.
You are one lucky lady Eva Mendes.
WHY CHICKS LOVE STUBBLE & BEARDED BOYS
IAN SOMERHALDER WILL NOT BE PLAYING CHRISTIAN GREY
JOHNNY DEPP TO QUIT ACTING?