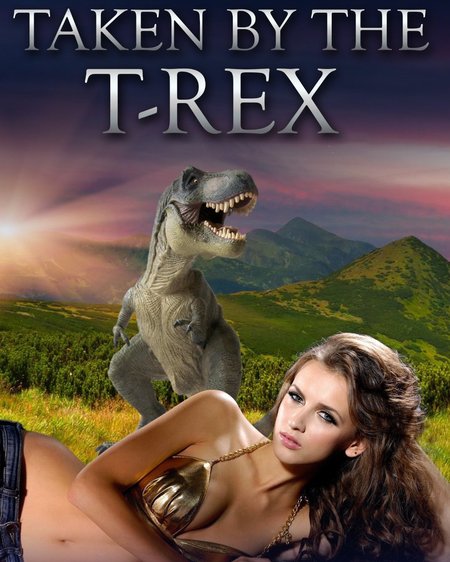 Jurassic Park meets Fifty Shades in the
hottest
weirdest new thing in erotic fiction. That's right ladies and gents – we're talking dino porn.
If you're thinking this can't be as bad as it sounds - unfortunately, it is. The general gist is, woman meets dinosaur, dinosaur has it's wicked way with her, woman enjoys the best T-Sex of her life.
Oh look at that, we've just thrown up on our desk.
Penned by monster sex authors Christie Sims and Alara Branwen, the books include
Ravaged by the Raptor
, where a lonely farm girl defies her controlling parents by having sex with a velociraptor. Wow, teen rebellion has got hardcore since our day.
In another classic,
Taken by the Pterodactyl
, shepherdess Dianne is kidnapped by the winged beast, who she presumes is going to eat her (fair assumption), but instead, 'when it starts to peck her clothes away, leaving her naked, she begins to understand that the pterodactyl might have another, more deviant use for the young virgin. But can Dianne accommodate such a massive creature?' explains the
Amazon
description.
Yeah. That just happened. If you haven't gone blind from reading this, then we have more.
Jezebel
went all out and excerpted one of the stories, In the
Velociraptor's Nest.
Read on if you dare...
A reptilian tongue, stiff and hot, dashed out to lick at the tender, naked flesh so suddenly exposed. Azog gasped at the touch, then gradually relaxed as her body warmed to the intoxicating sensation of the beast's flesh against her own.She wasn't sure if her sudden arousal was because of her earlier thwarted climax in the cool stream, or if she was just desperate for one last pleasant sensation before being torn limb from limb by the great, scaly beast. Either way, Azog relished the rasp of its tongue, hot and rough, on her sensitive skin.
If dinosaurs aren't really doing it for you, it's ok – because Sims and Branwen are nothing if not diverse. They have also written sexy monster stories about werewolves, ogres, dragons…
BOOKS TO READ BEFORE THEY'RE TURNED INTO FILMS...
FIFTY SHADES OF GREY WINE HAS HAPPENED
ROBERT PATTINSON HATES THE GYM AS MUCH AS YOU