There's been rumblings for a while, but Trinny Woodall has finally been spotted out on a date with
celebrity chef
Nigella Lawson
's ex husband Charles Saatchi.
Having been seen at Scott's
restaurant in London
a few times (even sitting at the same table where the now infamous
choking incident
happened), the pair were also papped coming out of French restaurant Colbert on Friday, according to the
Daily Mail
.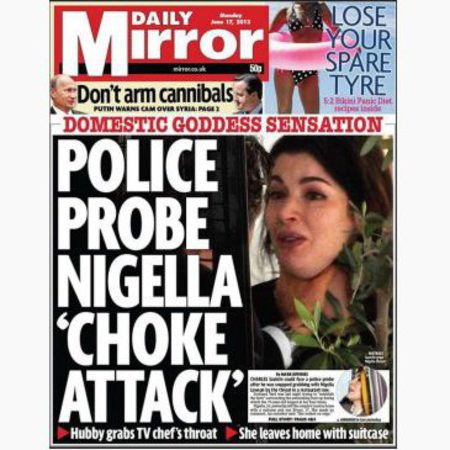 Despite Saatchi trying to downplay the shocking pictures, the businessman was condemned by
domestic violence charities
and held up as a figure of hate by the public.
However Woodall, 48, and Saatchi, 70, are believed to have started dating a quick six weeks after his
divorce
from Nigella.
But Trinny is not alone in her decision.
Chris Brown also spoke out this week
about what a massive lothario he is and how he has no problems with the ladies despite his assault on ex-girlfriend
Rihanna
(ugh, that guy is the worst).
Even though charities such as
Women's Aid
warn that 'men are significantly more likely than women to be repeat perpetrators of violence,' women are still drawn to then. But would you go out with someone knowing they had a violent past?
Vote in our poll and let us know your thoughts in our comments box below...
Would you date someone who had been violent with an ex in the past?
Depends on the situation - I'd need to know more
28.57%
If I thought it could be serious, I'd give it a chance
4.76%
I wouldn't judge someone on their past relationships
4.76%
WHY DON'T WOMEN LEAVE ABUSIVE RELATIONSHIPS?
WAS CHRIS BROWN SEXUALLY ABUSED AS A CHILD?
FOR LOTS OF OTHER RELATIONSHIP DISCUSSIONS, SEE HERE