A sex
monitoring app
(yes that's a thing) has revealed that most people have sex for less than seven minutes across America.
The Spreadsheets App
uses your
smart phone's speakers
and accelerator to detect moans and thrusts, which it then converts into highly scientific sex facts.
Using 10,000 sets of data, the app was able to chart how long the
average romp session
lasts in different places across America.
And it sucks to be you Alaska, who came in (chuckle) at 1.21 minutes.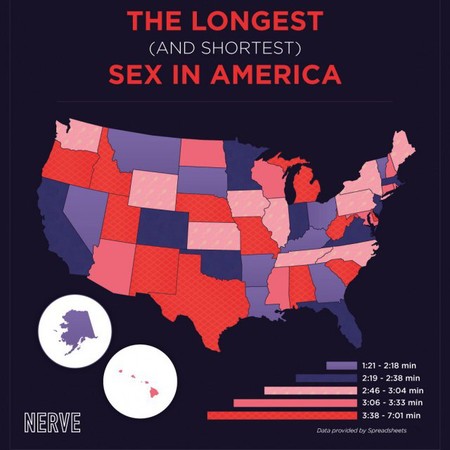 If you're looking for a longer lovin' the get yourself down
New Mexico way
, where the average sex session was measured at 7.01 minutes.
With the majority of states averaging between 3.38 and 7.01 minutes (excluding foreplay), it means most Americans are largely dissatisfied with their nookie time,
as a study confirmed
that people think sex which lasts between 7-13 minutes is most desirable.
However, you have to question the type of guy that is timing his sexploits.
Tantric sex advocates
not so much, guys that readjust their hair in a mirror while doing jack hammer sex - more than likely.
Do we have unrealistic sexpectations? Tweet us your thoughts
@handbagcom
THE ONE NIGHT STAND RULES EVERY WOMAN SHOULD KNOW
WHY IT'S TIME TO EMBRACE BEING SELFISH
MORE LIFE ADVICE