If
MasterChef
has put you off ever attempting a soufflé -
Mary Berry
is here to hold your hand.
This most impressive and down right delicious of puddings will have your guests giving you a standing ovation.
Mary Berry's Hot chocolate soufflés
Serves 4
Ingredients
125g (4oz) plain chocolate
2 tbsp water
300ml (½ pint) milk
45g (1½oz) butter, plus extra for greasing
45g (1½oz) plain flour
2-3 drops of vanilla extract
60g (2oz) caster sugar
4 egg yolks
5 egg whites
Sifted icing sugar for dusting
Method
Break the chocolate into pieces and put into a small saucepan with the measured water and a few tablespoons of the milk.
Heat gently, stirring, until the chocolate has melted.
Add the remaining milk, stirring to blend.
Melt the butter in a pan, add the flour, and cook, stirring, for 1 minute. Remove from the heat and gradually add the chocolate and milk mixture.
Bring to a boil, stirring, until the sauce has thickened. Stir in the vanilla extract and caster sugar, and leave to cool.
Beat the egg yolks into the cooled chocolate mixture.
Lightly butter the individual soufflé dishes and set aside.
Whisk the egg whites until stiff but not dry.
Stir 1 large spoonful of the egg whites into the chocolate mixture, then carefully fold in the remainder.
Divide the mixture among 4 x 300ml (½ pint) soufflé dishes.
Place on a hot baking tray and bake in a preheated oven at 190°C (170°C fan, Gas 5) for 40–45 minutes until the soufflés are well risen and firm.
Dust with sifted icing sugar. Serve the soufflés at once.
Scoff immediately.
Mary Berry
Winter Cookbook
eBook, published by DK, £6.99, is available to download from the
iBookstore
and
Amazon Kindle Store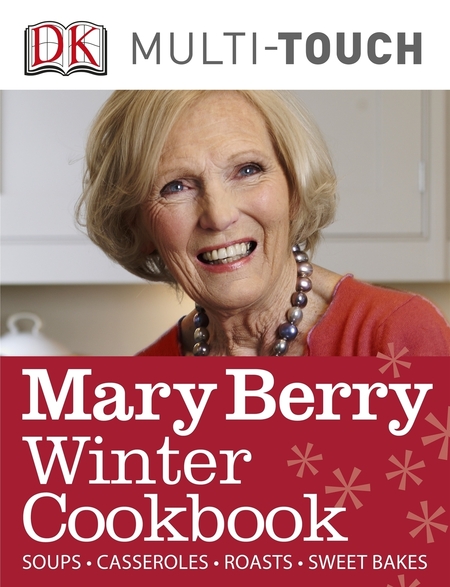 MARY BERRY'S STICKY TOFFEE PUDDING
MARY BERRY'S WIMBLEDON CAKE
MARY BERRY'S PINK MACAROONS