This easy roast
Christmas
turkey recipe is full of flavour and won't result in dry tough meat. Serve this on the day and everyone will be happy (even your mother-in-law)...
Roast turkey with parsley & onion stuffingServes:
8
INGREDIENTS
250g (9oz) butter
3 onions (1 finely chopped, 2 quartered)
125g (4½ oz) white breadcrumbs
Handful of flat-leaf parsley, finely chopped
Salt and freshly ground black pepper
4kg (9lb) turkey
METHOD
First, make the stuffing. Melt half the butter in a pan over a low heat, add the chopped onion, and sweat gently until soft.

Remove from the heat, stir through the breadcrumbs and parsley, season, and set aside to cool.

Preheat the oven to 200°C (400°F/Gas 6). Sit the turkey in a large roasting tin and season, inside and out.

Spread the remaining butter over the skin. Stuff the onion quarters into the body cavity and the stuffing into the neck end.

Roast for 20 minutes, then reduce the oven temperature to 190°C (375°F/Gas 5).

Cover the turkey loosely with foil and roast for 20 minutes per 450g (1lb), plus 20 minutes.

Baste every hour with juices from the tin.

Pierce the bird with a skewer. If the juices run clear, it is ready; if not, cook for a little longer.

Remove the foil for the last 10–15 minutes.

Remove the turkey from the tin and put on a large warmed plate. Cover with foil and leave to rest in a warm place for 15 minutes.

Serve slices of turkey with gravy, roast potatoes, cranberry sauce, and seasonal vegetables.

Variation: Roast turkey with sage and bacon stuffing

For the stuffing, prepare in the same way, but add 2 streaky bacon rashers, finely diced, with the onion.

Use 115g (4oz) wholemeal breadcrumbs instead of white, and a handful of fresh sage instead of the parsley. Season and use as before.
COOK TIME
3 hours 20 mins
For more great recipes pick up
Cooking Through the Year
, published by DK, £25,
dk.com
.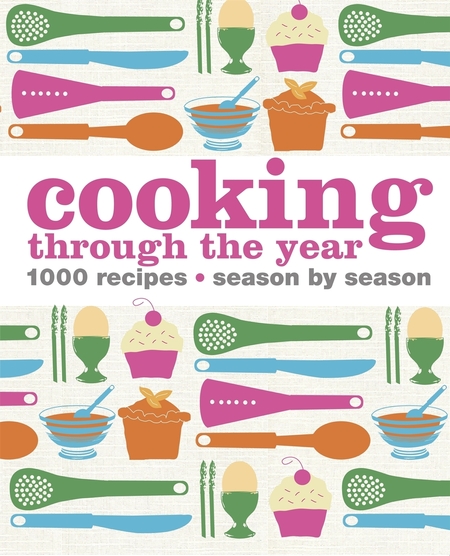 MAKE AHEAD CHRISTMAS PUDDING
8 WAYS TO AVOID EXCESSIVE WEIGHT GAIN THIS CHRISTMAS
MORE CHRISTMAS RECIPES