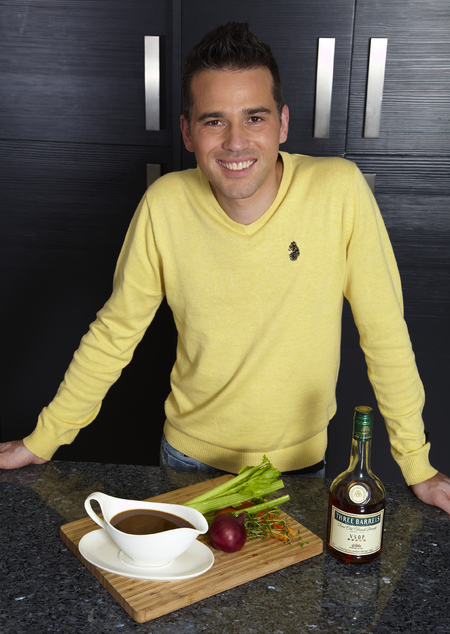 Masterchef runner up and TV chef
Dean Edwards
has been using his culinary skills to create a selection of scrumptious, yet simple, sauces using a secret alcoholic ingredient –
Three Barrels
French Grape brandy.
In the video below he shows us how to make thick gravy sauce for a roast chicken dinner.
Here's the recipe and a few additional instructions if you want to give it a go at home...
Three Barrels Gravy sauce for roast chickenServes:
4
Ingredients:
2 small onions quartered
1 carrot cut into four lengthways
2 stalks celery roughly chopped
5 sprigs fresh thyme
1 heaped tbs plain flour
70ml Three Barrels
3 sprigs fresh thyme
700ml chicken stock
Method:
This is a two stage recipe. Before roasting your chicken place the quartered onion, carrot and celery in the tray along with the fresh thyme and cook as required.
When the cooking time has elapsed, remove your chicken from the oven and allow to rest for 20 minutes on a plate covered loosely in foil.
Pour off some of the fat from the tray then add the flour, cook over a medium heat for 1-2 minutes, add your Three Barrels brandy and then reduce by half.
Pour in the stock, bring to the boil and cook until the gravy thickens, at this stage add any of the resting juices from the chicken. Season with salt and pepper then pass through a sieve before serving.
Pour on top of the carved chicken and the usual roast trimmings of goose fat roasters, sprouts and my favourite pigs in blankets.
This method will work well for your Christmas turkey too.
What do you think?
Three Barrels Brandy XO, £23.19 and
Three Barrels
VSOP, £16.99, available from all leading supermarkets and off licenses.
CHICKEN AND SAUSAGE JAMBALAYA RECIPE
WELSH LAMB AND POTATO TORTE WITH GARLIC
HOW-TO VIDEO: KEY LIME PIE AND CAIPIRINHA SORBET