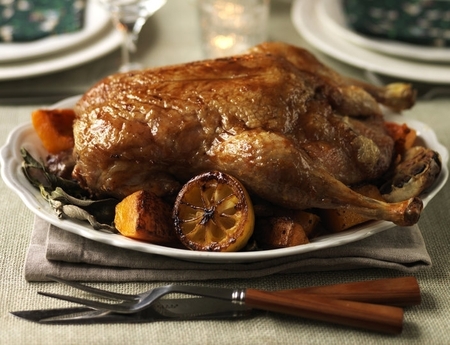 Duck is incredible with fruity sauces and
stuffing
mixes, so why not blitz up some
cranberry sauce,
blackberries and apricots in a blender, stir them into the baking juices and add a splash of port to make a tasty gravy.
If you've never cooked a
duck
before and need a beginners guide to getting it right, take a look below...
Traditional roast duck recipe
METHOD
Pre-heat your oven to 220°C, Fan 200°C, Gas Mark 7.

Take bag of giblets out of the body cavity (they're useful for stock).

Weigh the duck without the giblets. It's important to do this – don't just use the weight on the bag, as this includes the giblets - so you'll end up cooking it for too long, drying out the meat.

Place on a rack in the roasting tin, prick the skin all over and rub a teaspoon of salt into the skin. This will help to make the fat crispier.

Roast in the middle of the oven for 20 minutes per 500g, plus 20 minutes extra.

Rest the duck for 10-20 minutes.

All ovens vary in performance, this is a guide only.
HOW TO: CHRISTMAS ROAST GOOSE RECIPE
CHRISTMAS DINNER ALTERNATIVES FOR TURKEY HATERS
MORE CHRISTMAS RECIPE IDEAS